Our Analytics foyer took place last Tuesday. At this festive end-of-year edition, we've proudly welcomed 79 attendees to conclude 2018 together. It became an interesting afternoon and evening during which the public was introduced to several customer cases and the potential of Artificial Intelligence. Our take home message? Analytics turns data into useful insights that take your business to a higher level.
In this blog post, we dive deep into the different customer stories brought during this inspiring evening. These stories proof that an insight does not always have to grow from the most advanced, complex technologies. The focus remains on the concrete value that we create.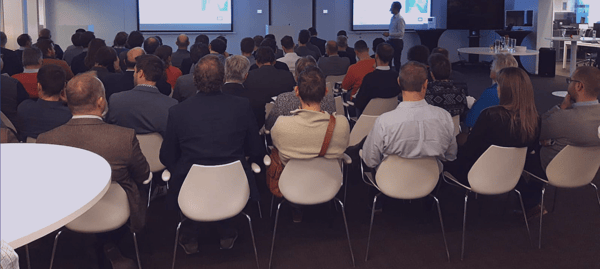 Optimization of the shipping process: E-llis takes the stage
Process optimisation is an important factor today to maintain your competitive advantage. In co-creation with e-llis, we worked on a proof of concept to optimise their shipping process. Specifically, we took a closer look at the filling level of their shipping containers. In nowadays' context, the company sees itself sometimes compelled to ship containers that are a merely 40% full. With our cooperation, they want to boost that filling level to 80%. After an extensive analysis that measured the feasibility of the project, the development of a dashboard with a smart algorithm started. Said algorithm calculates the optimal distribution across different containers, leaving as few cubic meters unused as possible. The tool also allows to explore different scenarios for an optimised experience for e-llis.
From gut feeling to a data-driven retention policy
Motivated staff is the base of the business success of a company in our current talent economy. Bpost realises that like no other. The organisation has been regularly reviewing its HR policy for years to prevent staff turnover. Bpost called on our help in order to stop basing their retention policy on gut feeling and start using a more data-driven approach. To reduce staff turnover of their assistant postmen, the company wanted to track down early in the selection process which employees were likely to soon leave bpost and which weren't. To explore this, we combined internal data with external open data sources. In this way, we succeeded in formulating 4 relevant parameters to explain retention. By thoroughly documenting the analysis process, bpost is able to discover retention trends in their data in the long term.

A Port ready for tomorrow: the Chainport Hackathon
The Chainport Hack is a Hackathon organised by the port of Antwerp in collaboration with a number of large international partners. During the event, the participating teams try to find solutions to the challenges that shipping entails. One of these is the increase in cocaine smuggling. The detection of banned substances is complicated by the limited number of containers that are scanned. To illustrate: in 2017, 7 million containers passed through the port. Only 1% of the containers has actually been scanned. The challenge we set ourselves was to scale up that 1%, without losing sight of the economic interests of the port. We tried to recognise suspicious patterns in scans taken from the containers with a form of machine learning.
Process optimisation thanks to automated reporting
For a customer in the utilities sector we created the so-called Customer Journey Miner. This tool automates the different steps from business to insights from data. In this way, the company is able to focus on proces optimisation. Through process mining from the call logs of their helpdesk, we designed a rich data source from which business analysts can retrieve and visualise their own subsets. Based on these visualisations, the analysts can monitor the behaviour of their clients. Thanks to the Customer Journey Miner, one can quickly and accurately discover which events trigger customers to call the helpdesk and their behaviour afterwards. Then, it is up to the analyst to interpret and explain these events.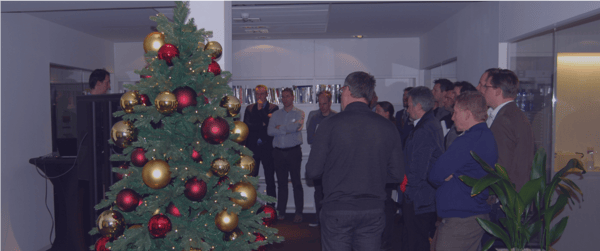 One thing's clear: analytics is an important asset for your company. With this in mind, we want to make analytics a priority in 2019.