The AE Hackathon gives customers and prospects 36 hours to come up with an innovative idea and a minimum viable product. The fifth edition of the Hackathon took place in June 2018. In this series, you will meet all the participants.

Want to tackle litter? It's good karma!
Litter is a major blight on our streets. Every year, municipalities and governments invest substantial budgets in initiatives to clean up streets and keep them clean. For example, the 'Mooimakers' campaign alone has a budget of €9.6 million a year. Cities themselves allocate large funds to anti-litter campaigns, but getting residents on board is apparently not as straightforward as it seems. Team Karma Village took this problem as the starting point and came up with a way to bring citizens and the authorities into contact with each other.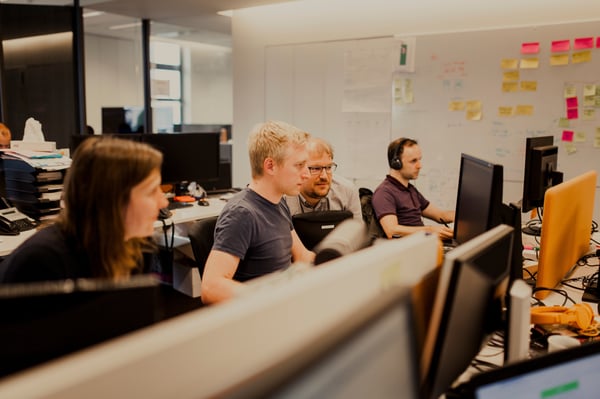 A cleaner neighbourhood is child's play thanks to gamification
Their solution is the Karma Village platform, a sandbox or open world game which transforms the area into a digital neighbourhood. In the app, people can encourage each other to carry out a good deed. This encouragement is done via gamification. Problems in the neighbourhood appear as 'quests' in the app, and users can collect digital Karma points by solving problems in their neighbourhood. These problems range fromreporting litter or a poor road surface to finding a missing cat. Users can alsoadd quests themselves. The app guides the user in creating a quest, and alerts others in the neighbourhood who may be interested in helping out. The digital points earned can then be used at local events.
A Minimal Viable Product with major ambitions
In the long run, if larger partners come on board, the points system can develop into a fully-fledged Karma Economy with (inter)national campaigns in partnership with supermarkets or brands. A good example is 'Mei Plasticvrij' (Plastic-free May), in which supermarkets encouraged their customers to purchase glasses instead of plasticbottles. That way, users can save Karma points which they can exchange, for example, for a reusable drinks bottle.
As an extra bonus, you can use the Karma Goggles app to recognise the Karma people in your neighbourhood and seetheir Karma ranking.The app uses both Artificial Intelligence for facial recognition and Augmented Reality to display a user's ranking. Depending on how many points they have, each user will reincarnate as a certain type of animal.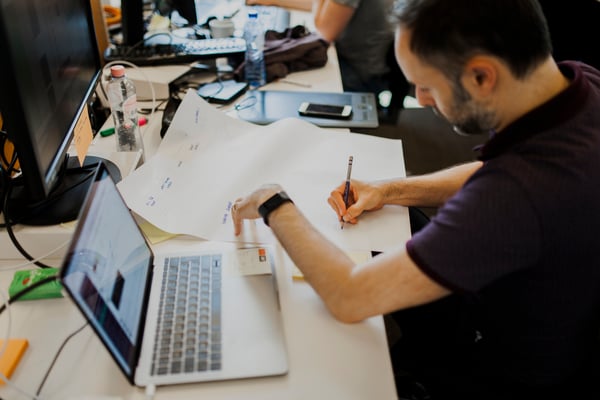 Double diamond model to enhance the user experience
During the hackathon, Team Karma Village built a demo version which can automatically recognise three different situations. In 36 hours, the team fast-tracked through the four phases of the double diamond technique: for example, a wide range of experiments were carried out in the initial phase ('understand' phase). From this, the conditions for a minimal viable product were distilled ('define' phase). Team Karma Village placed strong emphasis on the technical development of their idea and primarily worked with Artificial Intelligence, as previously mentioned. At the front end, vue.js. was chosen for the framework ('explore' phase). Throughout the whole process, considerable attention was given to the user experience, with so-called 'delightful design', by adding, for example, functional animations that encourage users to perform an action. This gives users a real 'gaming experience'.
The result of this project ('create' phase) is a digital neighbourhood that makes it possible to bring local residents into contact with each other, not just virtually but also physically, to help each other and ultimately bring people closer together.