The COVID-19 crisis has the world working from home, in improvised office spaces. Evidently, this sudden change comes with numerous challenges. Confident that teleworking will continue to play an important role in the post COVID-19 era, AE has kickstarted Awaere, a digital platform that helps remote teams deal with the challenges of telework in various ways.
We interviewed AE Consultants Wim Van Emelen and Joris Hias to learn more about the story behind this innovative platform.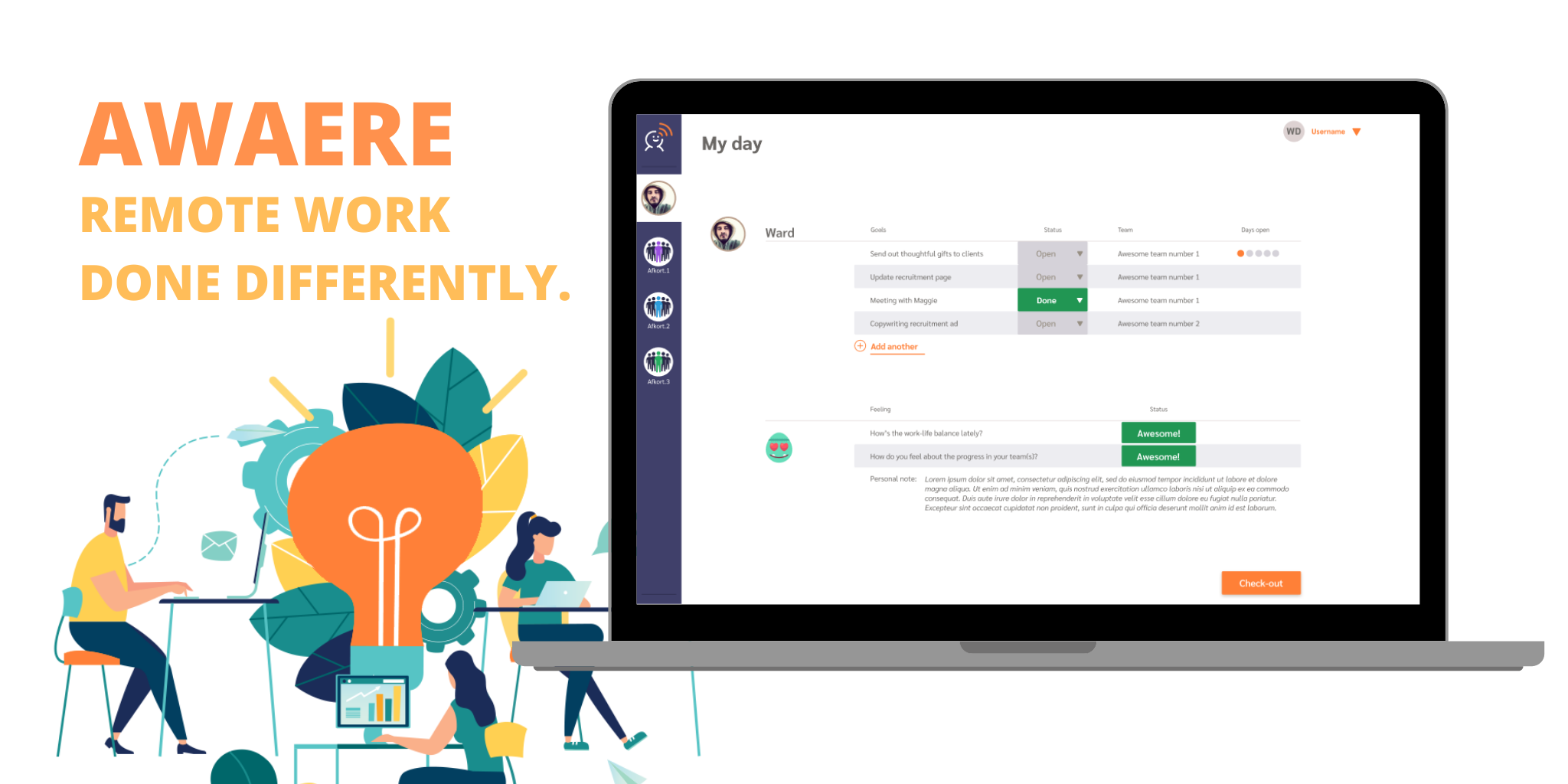 Let's start at the beginning. What exactly is Awaere and how did the idea come about?
Wim: At the start of the crisis, our organization sensed there was a strong need to make remote work results more visible, and to report those results to our customers in a tangible manner. This led to our first internal tool, called 'RemeDI'. When the corona crisis escalated, we carried out extensive market research into the features various teams deemed necessary to make their telework situation as pleasant and productive as possible.
Joris: Our efforts eventually resulted in Awaere, a platform that supports both team members and team managers in ways that were not yet possible with existing tooling. For example, the platform enables teams to set and follow up on concrete goals, to initiate and facilitate communication between team members and team managers, and to monitor the well-being of each team member. In that way, it is, as we like to call it, a 'conversation starter'.
What are some of the challenges remote teams face?
Wim: Our user research showed that disconnection was one of the top pain points. Working together and maintaining contacts, formal or informal, is simply not a given in a remote context. In addition, it became apparent that managers find it especially difficult to keep an overview of their team's activities without coming across overly controlling.
Joris: It also emerged that teams find it hard to separate between work and private time. When does the working day start and when does it end? Are team members allowed to take a moment to relax from time to time, and how can they do so? Based on our research, we quickly found that well-being and not work-related reporting were to play a crucial role on the Awaere platform.
Is it the focus on well-being that distinguishes Awaere from other tools?
Wim: Exactly. Today, numerous tools exist to support remote teams. Just think of Jira, Trello or Monday. However, these are all planning tools that focus mainly on operational aspects rather than on well-being. As we mentioned earlier, our user survey confirmed this. Awaere, by contrast, allows for a smart combination of, on the one hand, monitoring how teams organize their work and, on the other, following up on how team members feel at certain moments in time. It is a tool that not only helps teams improve their collaboration, but also encourages the kind of team spirit where the focus lies on trust, not control.
You managed to deliver a noteworthy Minimum Viable Product (MVP) in a short time. What has been your approach?
Wim: We adopted a Lean Start-up approach. Keeping in mind to, as they say, "fall in love with the problem, not the solution", we first wanted to thoroughly examine whether there was adequate demand for the solution we were about to build.
Joris: In a first step, we created a persona for the team manager and one for the team members. Then, we considered what pain points and challenges those personas face, and what solutions might help them. In a third step, we tested our assumptions based on in-depth interviews with 11 managers and 10 team members from 21 different companies. This ultimately enabled us to define the key functionalities for the MVP and to bring them in line with what our potential users would effectively need.
What expertise did you rely on to complete the MVP so quickly?
Wim: We put together a team of seven experts to work on two subordinate projects: development on the one hand, product vision on the other. As you may know, a lot of expertise is involved in creating an MVP: from lean start-up principles, functional analysis and technical architecture to UX/UI design, front-end development, quality assurance and agile project management.
How do you see the platform evolving? Are there any next steps in the pipeline?
Wim: We plan on gradually adding new functionalities, based on built-in analytics that tell us how the platform is used and where we can offer more support. We will continue to focus on our production vision and to search for new insights.
Joris: The platform indeed still leaves many opportunities to be discovered. We are confident that Awaere can transform teams in a profound manner by putting trust first, instead of trying to control each other. In addition, we think it would prove interesting to explore a gamification component, something that stimulates team members to remain in close contact with each other and that generates a kind of social dynamic on the platform.
Of course, the both of you worked remotely while developing Awaere. What challenges have you experienced yourself?
Joris: To be honest, I actually found the remote work situation easier to handle than our regular work environment. I myself was able to concentrate much better on the relevant tasks without being interrupted and, as a team, we always kept each other in the loop. Working remotely may have its challenges, but it does come with its fair share of advantages, too.
Wim: I agree. Agile software development can be carried out remotely just as efficiently as in the workplace. Because we were less inclined to distract each other, we generally worked more effectively and efficiently. I did miss the informal component of the job, however. I don't see us doing this for another six months without a tool like Awaere in place to provide us with the necessary support in that area.
Read our previous blog to discover how Awaere can boost your team collaboration in order to make remote working more efficient. Or sign up now to give Awaere a go! We're eager to hear from you and will build and prioritize our roadmap based on your feedback. Let's make remote work better together!