Elke maand organiseren we bij AE een AE Codecamp voor de kinderen van onze collega's en hun vriendjes. Codecamps zijn een heel leuke manier voor de volgende generatie om spelenderwijs te ontdekken wat je met wetenschap en technologie kan doen.
Het codecampverhaal begon een tweetal jaar geleden, toen de oprichting van een CoderDojo in mijn gemeente mijn aandacht trok. Een CoderDojo is, volgens hun omschrijving, "een community waar kinderen kunnen experimenteren met IT en technologie op een speelse en toegankelijke manier."
Nadat we een keertje meegedaan hadden, waren mijn zoon en ik meteen gewonnen voor de kracht van het concept, de tools ter beschikking en niet in het minst door het enthousiasme van de jonge deelnemers.
Met een kinderlijk enthousiasme en volledig overtuigd van het feit dat de kinderen van mijn AE-collega's ook erg geïnteresseerd zouden zijn om in de wereld te stappen waarin hun ouders dagelijks actief zijn, gaven we vorm aan onze eigen AE Codecamps samen met een groep gelijkgezinden binnen de organisatie.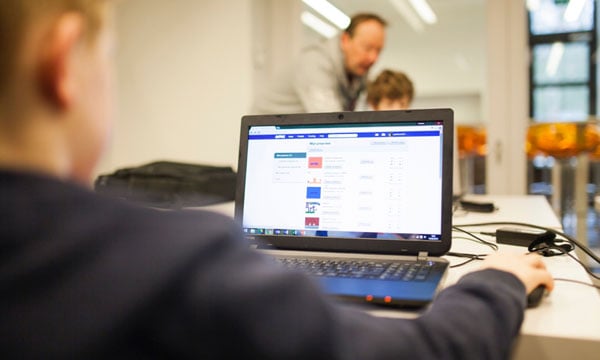 Al snel hadden we een groepje van ongeveer 10 personen die erg gemotiveerd waren om onze 'AE kinderen' te coachen en kort daarop volgde onze eerste codecampsessie. Dat is ondertussen ongeveer anderhalf jaar geleden. Ons initiatief was zo succesvol dat we ondertussen elke maand een sessie organiseren, met telkens ruimte voor 10 à 15 kinderen.
Elke sessie stellen onze coaches een variatie aan technologieën ter beschikking:
• MaKey MaKey (voor de allerjongsten)
o Een keyboarduitbreiding die voor heel wat toepassingen gebruikt kan worden
o Ontwerp je eigen muziekinstrument
o Maak je eigen alarmsysteem
• Scratch
o Zet je eerste programmeerstapjes
o Pas procedurematig denken toe
o Ontwerp games en video's
• Robomind
o Programmeer een robot
o Leer meer over logica en robotica
• Edison
o Grappige en Lego-compatibele robotica voor de uitvinders van morgen
o Programmeer robotische interacties gebaseerd op geluid, licht en datatransmissie
o Laat robots met elkaar interageren en laat ze samen de Tango dansen
En dat is niet alles. We hebben nog heel wat zaken op onze bucket list voor toekomstige sessies, zoals leren hoe je je eigen website bouwt met Live Weave of je eigen app met Appinventor.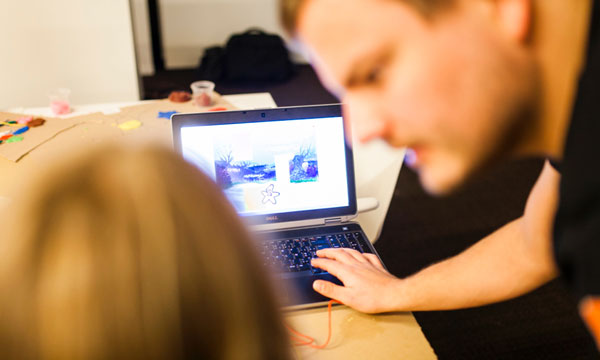 Waarom organiseren we de AE Codecamps?
Omdat het plezierig is? Natuurlijk.
Omdat het leerrijk is? Vast en zeker. Onze codecamps helpen kinderen om systemisch te gaan denken.
Maar de voornaamste redenen waarom we de AE Codecamps geven zijn:
• Kinderen ontwikkelen een oprechte interesse in wetenschap en technologie
Tijdens de codecamps wakkeren we interesse aan door middel van concrete 'real-life' experimenten die we samen opzetten. Zonder enige vorm van druk op te leggen of de kinderen het gevoel te geven dat ze 'onderwezen' worden, passen ze de experimenten zelf toe en zijn ze creatief bezig. Hun enthousiasme zorgt ervoor dat ze vaak verder blijven experimenteren met technologie buiten de sessies.
• Het verandert de perceptie van de kinderen over technologie
Door deel te nemen aan codecamps ondervinden de kinderen dat technologie niet alleen voor (video)consumptie dient of om spelletjes op te spelen, maar ook creatief kan worden ingezet. 'Alles' rond computers en tablets krijgt een bredere betekenis voor hen en ze gaan er op een andere manier naar kijken. Dat maakt het plots ook voor ouders interessant om te accepteren dat hun kinderen met deze toestellen aan de slag zijn, omdat ze er op een leerrijke manier mee omspringen. (Niet dat video games spelen op zich slecht is voor de ontwikkeling van een kind, maar op deze manier halen ze er een ander type voordeel uit.)
• • Kinderen worden ambassadeurs van wetenschap en technologie
Kinderen krijgen de kans om hun eigen spelletjes en video's te maken, die ze ongetwijfeld met hun vrienden uit de buurt, op school of in de sportclub zullen willen delen. Sommige van deze vrienden komen dan ook naar een paar sessies, overtuigen hun ouders, … en zo ontwikkelen zich nieuwe clusters van interesse in wetenschap en technologie.
• • Pizza op het einde van elke sessie!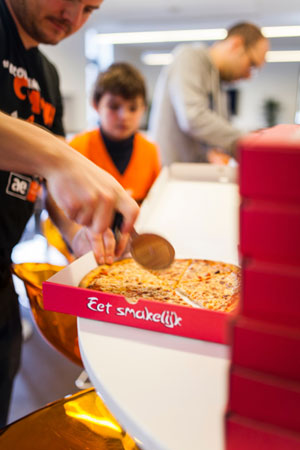 Een toast op de Edisons van morgen. En een welgemeende dankjewel aan het team van AE Codecamp coaches voor hun inzet.