In het kader van AE's 20-jarig bestaan blikken we met enkele van onze consultants terug op hun carrière. Vijf jaar geleden zette Pieter Peremans zijn eerste stappen bij AE. Via zijn oud-Chiroleider Bram Vanschoenwinkel, die toen bij AE aan de slag was als business analist, kwam hij voor het eerst in contact met dit Leuvense IT-bedrijf. Het zou een niet zo typische, maar succesvolle match blijken.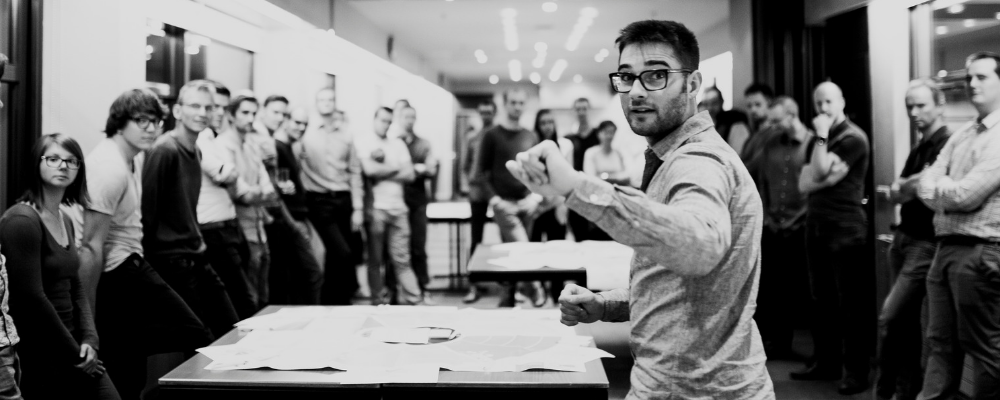 Ondertussen ben je al vijf jaar bij ons aan boord. Was de keuze voor AE in 2014 snel gemaakt?
Ik moet toegeven dat AE voor mij geen voor de hand liggende keuze was. Ik heb Industrieel Ingenieur Elektromechanica gestudeerd, waarbij dieselmotoren uit elkaar halen, productontwikkeling en productietechnieken dagelijkse kost zijn. Op het eerste zicht dus niet meteen een fit met de IT-consultancy wereld. Toch heb ik de sprong gewaagd en daar ben ik nog steeds blij om.
Wat heeft voor jou de knoop doorgehakt?
Enerzijds was het de unieke AE cultuur die voor mij de doorslag gaf. Die was al voelbaar vanaf mijn eerste sollicitatiegesprek en zat vooral in de kleine dingen: medewerkers die samen een praatje maakten aan het onthaal, AE'ers die zich amuseerden aan de kickertafel, iedereen die me vriendelijk verwelkomde en me wel vijf keer vroeg of ik graag iets wilde drinken. Ik voelde meteen bedrijvigheid, collegialiteit en openheid. Anderzijds hebben ze bij AE van in het begin geloofd in mijn kunnen en potentieel. Dat ik niet de voor de hand liggende diploma's had, was geen probleem. Dat vertrouwen deed me beseffen dat een goede cultuurfit met een bedrijf enorm belangrijk is op lange termijn en dat ik mijn weg op inhoudelijk vlak wel zou vinden.
Welk aspect in je job als AE consultant geeft jou energie?

Vooral de vrijheid die ik hier krijg om mijn groeipad zelf uit te tekenen. Ik heb een breed interessegebied en mijn focus wisselt vaak. Bij AE krijg ik de kans om te kiezen in welk project ik mijn tanden wil zetten. Vaak zijn er dan een heleboel enthousiaste AE'ers die er samen met mij willen invliegen en dat werkt erg stimulerend. Vanuit AE moedigen ze dat ook alleen maar aan, want als je mensen laat doen wat ze graag doen, dan gaan ze dat automatisch beter doen. Kortom, zelf mijn focus kunnen leggen en aan projecten werken die me intrigeren, dat is mijn energiegever.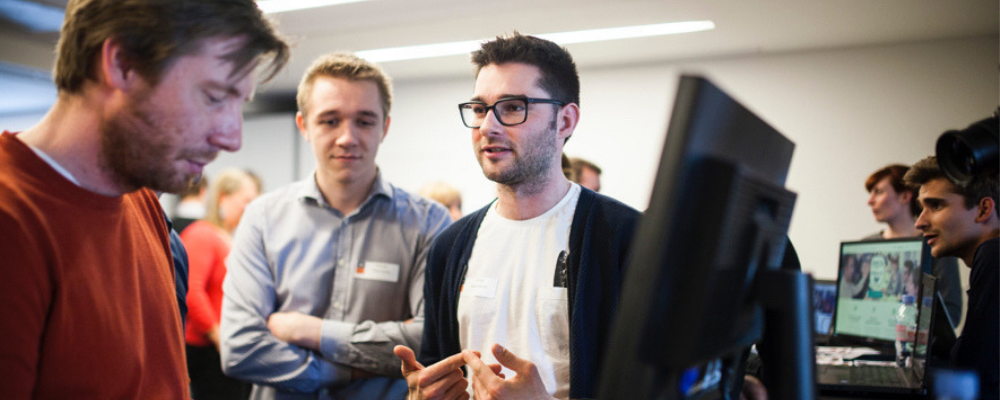 Op welke vlakken ben je doorheen je carrière bij AE het sterkst gegroeid?
Mijn inhoudelijke kennis is op sneltempo aangedikt door de vele avondsessies, trainingen en opleidingen. De kenniswerking binnen AE is heel matuur en dat was voor mij natuurlijk een welgekomen opportuniteit vanwege mijn niet IT-gerelateerde achtergrond. Daarnaast heb ik leren omgaan met verschillende bedrijfsculturen en mensen. Elke klant is anders en je moet je daaraan leren aanpassen. De juiste mensen samenbrengen en de juiste argumenten gebruiken om key stakeholders te overtuigen, is ook een soft skill die ik hier geleerd heb.
Welk klantenproject is je vooral bijgebleven en waarom?
Mijn opdracht bij een Internationale bankverzekeraar rond woonkredieten. Ik kreeg toen veel vrijheid in de uitwerking ervan en het is tegelijkertijd het project waarbij ik de kracht van AE als netwerkorganisatie aan de levende lijve ondervonden heb. Ik wist dat ik binnen AE de juiste mensen met de juiste kennis, expertise en ervaring zou vinden om me te helpen bij het definiëren van het probleem en de oplossing. Mijn eerste week bij de klant bestond dan ook uit bellen, bellen en nog eens bellen naar andere AE'ers. Ik heb toen enorm veel geleerd van mijn collega's met als gevolg dat de klant erg tevreden was met het resultaat. AE'ers helpen elkaar echt.
In maart werd AE voor de 9de keer op rij uitgeroepen tot een Great Place to Work. Wat maakt AE voor jou zo'n goede werkgever?

Ten eerste heeft AE veel oog voor het welzijn van haar medewerkers. Ik heb een hectisch jaar achter de rug en heb op enorm veel begrip en steun kunnen rekenen vanuit de organisatie. Dat is naar mijn mening vrij uniek in de consultancy wereld. Ten tweede stelt AE zichzelf voldoende in vraag en zijn ze niet bang voor verandering. De drive naar continuous improvement is enorm en laat dat nu net hetgeen zijn wat me voldoening geeft.