*Dit artikel verscheen oorsponkelijk in Datanews Knack*
Het 'WeGoSTEM' project zit in de laatste sprint naar de finish. Volgende week wordt de inschrijving voor vrijwilligers afgesloten. Doel is om tot 5.000 kinderen te bereiken tijdens de Code Week in oktober.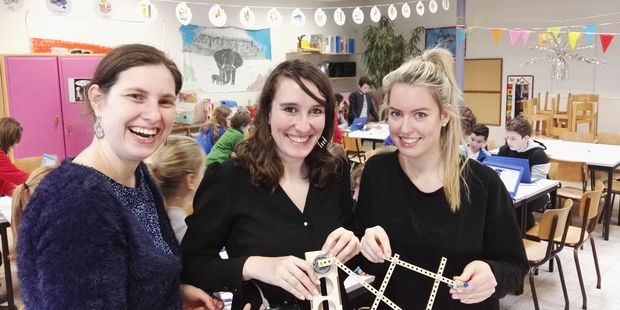 Young ICT Lady of the Year Valerie Taerwe, die het project mee op poten zet, is alvast enthousiast over de opkomst. "In totaal hebben we momenteel al meer dan 250 vrijwilligers. Dat is een fantastisch resultaat! Maar we hebben zeker nog hulp nodig in Antwerpen, Limburg, West-Vlaanderen en Brussel." De zoektocht naar vrijwilligers wordt afgesloten op 7 september.
Taerwe lanceerde WeGoSTEM samen met Francis Wyffels en Peter Bertels van Dwengo vzw. Ook twee finalisten van de Data News Young ICT Lady of the Year contest zetten hun schouders onder het project. Nele Van Beveren (KBC) en Laura Monten (Colruyt Group) - twee finalisten uit onze Young ICT Lady of the Year contest - zitten mee in de organisatie. Liesbet Wouters (NXP) vervolledigt het team. Onder de vrijwilligers zitten ondertussen nog andere Young ICT Ladies, waaronder Ursula Ndongo(ING) en Ellen Vanden Berghe (Nationale Loterij).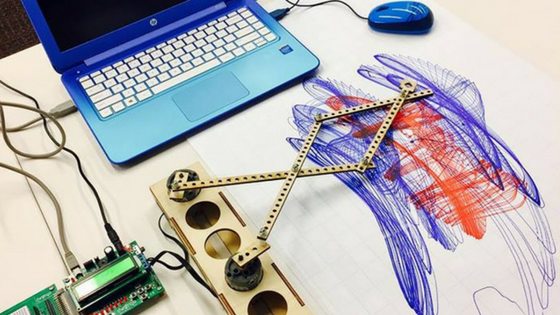 Kunstrobots
Met WeGoSTEM wil het team vijfduizend leerlingen uit het vijfde en zesde leerjaar van de lagere school warm maken voor wetenschap en techniek. Ze doen dat door hen een workshop aan te bieden. Uiteindelijk zouden ze samen zo'n 5.000 'art bots' moeten bouwen. Dat zijn kleine robots die in staat zijn een leuke tekening te maken. De actie vindt plaats tijdens de Europese CodeWeek van 7 tot en met 22 oktober, maar leerkrachten krijgen van WeGoSTEM ook didactisch materiaal en ondersteuning om tijdens de rest van het schooljaar actief met wetenschap en techniek aan de slag te gaan. Het initiatief werd ondertussen erkend door het Digital Belgium Skills Fund van de Koning Boudewijn Stichting en minister Alexander Decroo.
Een vrijwilliger moet een drie uur durende voorbereiding volgen (die worden twee maal gegeven in elke provincie, nvdr) om dan nadien gedurende één dag zelf leerlingen warm te maken voor STEM tijdens Code Week. "We mikken op een inclusieve doelgroep maar zelf hecht ik natuurlijk bijzonder belang aan de balans tussen vrouwelijke en mannelijke vrijwilligers", aldus nog onze Young ICT Lady of the Year. Het aantal vrouwelijke deelnemers ligt momenteel op een mooie 40 procent.
Wil je zelf meewerken aan WeGoSTEM?
U kunt zich nog als vrijwilliger aanmelden tot 7 september. Kandidaat-lesgevers moeten uiteraard enige IT-affiniteit hebben en analytisch kunnen denken, maar ze moeten zelf geen programmeur zijn. " Vergeet niet dat de kinderen in onze workshop dit in twee uur tijd kunnen. Het belangrijkste is de duidelijke wil en interesse", zegt Valerie Taerwe.
Alle info over hoe u uw steentje kan bijdragen, vindt u op www.wegostem.be.
Inschrijven kan nog tot 7 september via https://hubs.ly/H08xH-v0