Afgelopen dinsdag vond onze analytics foyer plaats. Op deze feestelijke eindejaarseditie mochten we 79 aanwezigen ontvangen om samen 2018 af te sluiten. Het werd een interessante namiddag en avond waarbij het publiek mocht kennismaken met klantencases en het potentieel van Artificial Intelligence. De kernboodschap die we meepikten? Analytics verandert data in bruikbare inzichten die uw business naar een hoger niveau tillen.
In deze blogpost gaan we dieper in op deze verschillende klantenverhalen gebracht op deze inspirerende avond. Mooie bewijzen dat een inzicht niet altijd uit de meest geavanceerde, ingewikkelde technologieën hoeft voort te komen. De focus ligt steeds op de concrete waarde die gecreëerd wordt.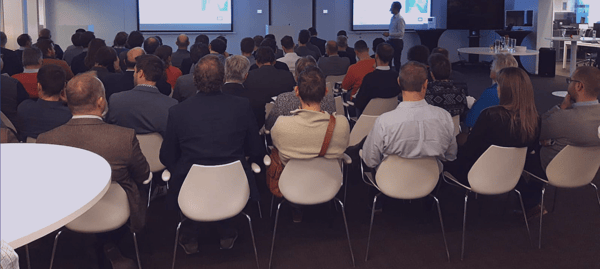 Optimalisatie van het shippingproces: e-llis aan het woord
Process optimalisatie is vandaag een belangrijke factor om uw competitief voordeel te behouden. We werkten in co-creatie met e-llis een proof of concept uit om het shipping-proces te gaan optimaliseren. Concreet namen we de vullingsgraad van hun shipping containers onder de loep. Momenteel is het bedrijf soms genoodzaakt om containers te verschepen die maar voor 40% gevuld zijn. Met onze samenwerking willen ze die vullingsgraad opkrikken tot 80%. Na een uitgebreide analyse die de haalbaarheid van dit project mat, is de ontwikkeling gestart van een dashboard met een slim algoritme. Dat algoritme berekent de optimale verdeling over verschillende containers heen, zodat e-llis zo min mogelijk kubieke meters onbenut laat. De tool laat het tevens toe om verschillende scenario's te gaan exploreren.
Van buikgevoel naar een datagedreven retentiebeleid
Gemotiveerd personeel ligt in de huidige talent-economie aan de basis van het zakelijk succes van een bedrijf. Dat beseft bpost als geen ander. De organisatie licht al jarenlang regelmatig haar HR-beleid door om personeelsverloop tegen te gaan. Om haar retentiebeleid niet langer louter op buikgevoel te baseren, riep bpost onze hulp in voor een meer data-gedreven aanpak. Om het personeelsverloop binnen het hulppostbode-statuut terug te dringen, wilde het bedrijf al vroeg in het selectieproces achterhalen welke werknemers bpost spoedig zouden verlaten en welke niet. Om dit te verklaren, combineerden we interne data met externe open databronnen. Zo slaagden we erin 4 relevante parameters op te stellen om retentie te gaan verklaren. Door het analyseproces grondig te documenteren, is bpost op termijn in staat zelf retentie-trends in hun data te gaan ontdekken.

Een haven klaar voor morgen: de Chainport Hackathon
De Chainport Hack is een hackathon georganiseerd door de haven van Antwerpen in samenwerking met een aantal grote internationale partners. Tijdens het event proberen de deelnemende teams oplossingen te vinden voor uitdagingen die de scheepvaart met zich meebrengt. Eén daarvan is de stijging in de cocaïnesmokkel. Het opsporen van verboden stoffen wordt bemoeilijkt door het beperkte aantal containers dat er gescand wordt. Ter illustratie: in 2017 zijn er 7 miljoen containers door de haven gepasseerd. Slechts 1% van daarvan is werkelijk gescand. De uitdaging die we onszelf stelden was om die 1% op te schalen, zonder de economische belangen van de haven uit het oog te verliezen. Concreet probeerden we met een vorm van machine learning verdachte patronen in genomen scans van de containers te herkennen.
Procesoptimalisatie dankzij geautomatiseerde rapportering
Voor een klant in de utilities sector werkten we de zogenaamde Customer Journey Miner uit. Deze tool automatiseert de verschillende stappen van business vraag tot inzicht uit data, zodat er ruimte aan businesskant vrijkomt voor procesoptimalisatie. Via proces mining uit de call logs van de helpdesk creëerden we een rijke databron waaruit business analisten hun eigen subsets kunnen halen en visualiseren. Aan de hand van die visualisaties kunnen de analisten vervolgens het gedrag van hun klanten monitoren. Dankzij de Customer Journey Miner weet men snel en precies welke gebeurtenissen klanten naar de helpdesk doen bellen, en welk gedrag zij daarna stellen. Het is dan de taak van de analist om deze gebeurtenissen te gaan interpreteren en verklaren.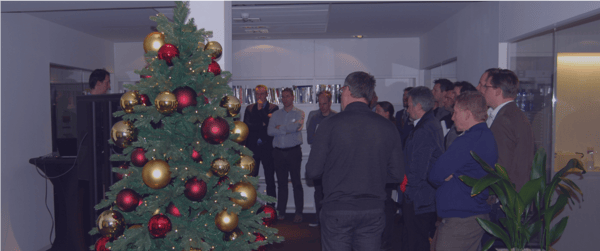 Het is duidelijk: analytics kan een belangrijke aanwinst zijn voor uw bedrijf. Met die gedachte in het achterhoofd willen we daar in 2019 dan ook een prioriteit van maken. Naast een uiteenzetting van onze Analytics verwezenlijkingen, markeerde deze foyer ook de geboorte van onze gloednieuwe brand d-sides, waarmee we de focus willen leggen op data-gedreven business oplossingen voor onze partners en klanten. Wil je meer te weten komen over deze foyer of over onze merk d-sides? Bezoek zeker onze nieuwe website en volg de verdere uitdieping van onze klant verhalen via Twitter en LinkedIn.