Vind je match in het AE Netwerk
Kennisdeling en camaraderie. Allebei zijn ze diep verweven in het typerende DNA van AE en komen ze tot uiting in de dagdagelijkse werking. Zo organiseert AE zeven keer per jaar een Traening Day, waar consultants elkaar informeren over de nieuwste markttrends, inspireren met innovatieve technologieën, en elkaar beter leren kennen tijdens een netwerkmoment. Laat vooral in dat laatste de uitdaging schuilgaan.
Ondertussen telt het AE netwerk maar liefst 300 medewerkers. Dat betekent: 300 gezichten trotseren op een Traening Day, waarvan de helft elkaar niet kent of herkent. Elkaar blijven kennen en durven aanspreken in deze snelgroeiende organisatie is een hele opdracht geworden. In de AE Hackathon ging Team BeeBuzz dan ook op zoek naar een manier om die connectie tussen AE'ers opnieuw te versterken.
Op zoek naar de juiste fit
Ter voorbereiding op de Hackathon werd er uitgebreid nagedacht over de fit tussen resultaat en doelgroep om bovenstaand probleem op te lossen. Kathleen, AE-Consultant: "Onze oplossing moest echt volledig passen bij de bedrijfscultuur en vibe van AE. Het moest zeker voldoende fun-gehalte bevatten, anders zouden de AE'ers dit nooit gebruiken. We wilden dus vooral iets maken dat leuk & makkelijk was om te gebruiken, maar natuurlijk ook de vooropgestelde goals nastreef. Zo kwamen we uit bij een mobiele app"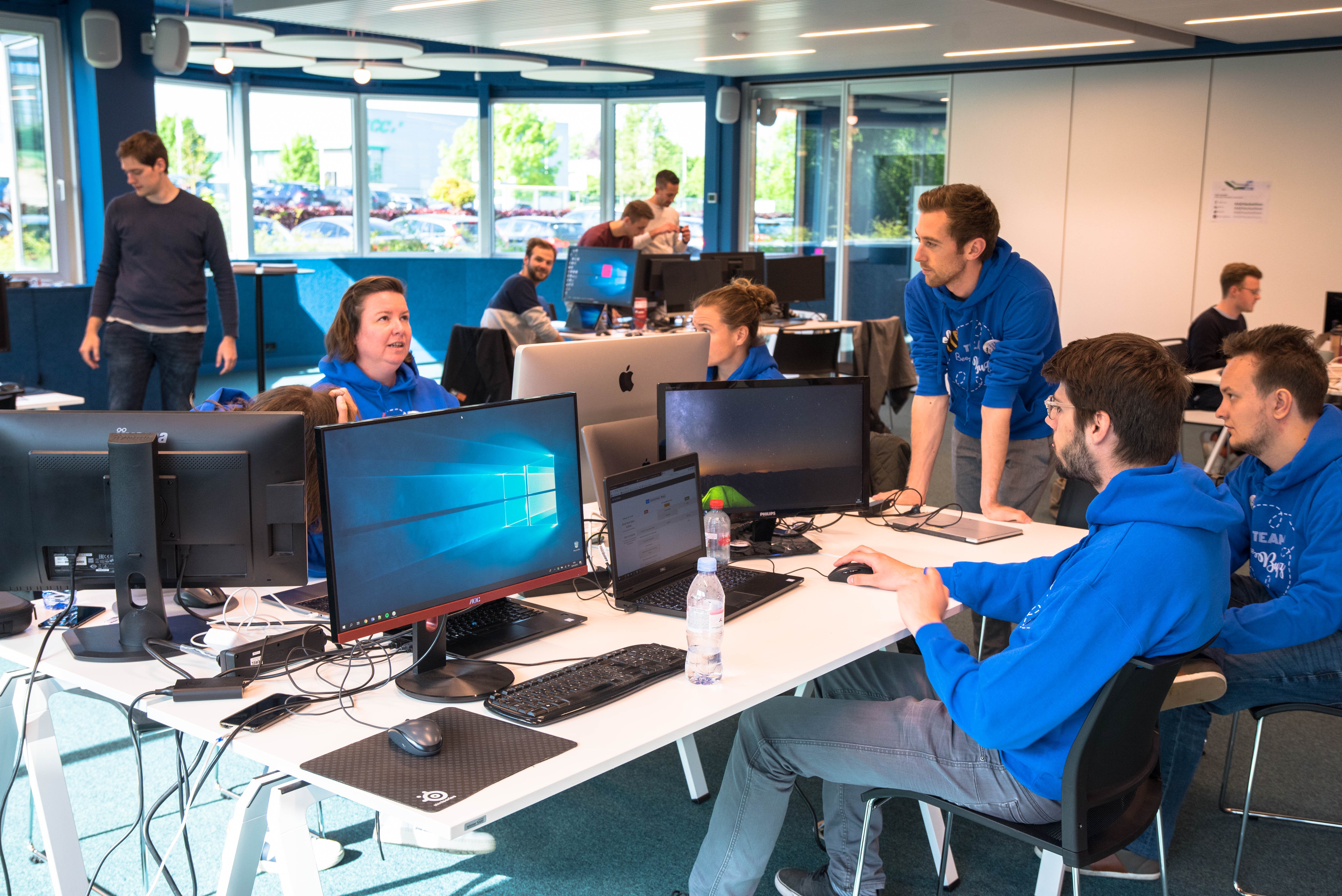 It's a match
Concreet zullen personen zich, wanneer ze toekomen op een Traening Day, kunnen aanmelden in een virtuele ontmoetingsruimte via een code en een selfie. In die virtuele ruimte zal een algoritme bepaalde collega's met elkaar gaan matchen op basis van verschillende criteria zoals interesses, competenties en opleiding. Vergelijk het een beetje met de populaire datingapp Tinder. Daarnaast kan het algoritme ten alle tijden worden bijgestuurd op basis van veranderende doelstellingen. Zo wordt het mogelijk om de ene keer gematcht te worden met gelijkaardige profielen en de andere keer met eerder meer complementaire profielen.
Eens het algoritme de kandidaat een match heeft toegekend, gaat hij/zij op zoek naar zijn effectieve match in de zaal. De app zal dit duo dan uitdagen om een challenge met ludieke insteek uit te voeren. Zodra die is afgerond rest alleen nog het nemen van een two-fie, want dankzij Facial Recognition herkent de app de twee gematchte kandidaten onmiddellijk en kan de challenge succesvol worden afgesloten. "Dit zou de interactie tussen consultants moeten vergemakkelijken en ervoor zorgen dat ze elkaar leren kennen op een zeer low-key manier", aldus Kathleen.
Start with the cupcake, not with the whole cake
Tijdens de tweedaagse innovatie challenge besteedde Team BeeBuzz veel aandacht aan de effectieve productuitwerking. Aldus Kathleen: "Op basis van de feedback van consultants konden we vrij snel een specifieke use case definiëren. En ook onze productvisie, waarbij we een Cupcake Minimal Valuable Product (CMVP) zouden ontwikkelen was onmiddellijk duidelijk. Noem het een full-experience in bite size omdat je zo beter kan checken of je afgeleverde product effectief zou aanslaan bij de eindgebruiker."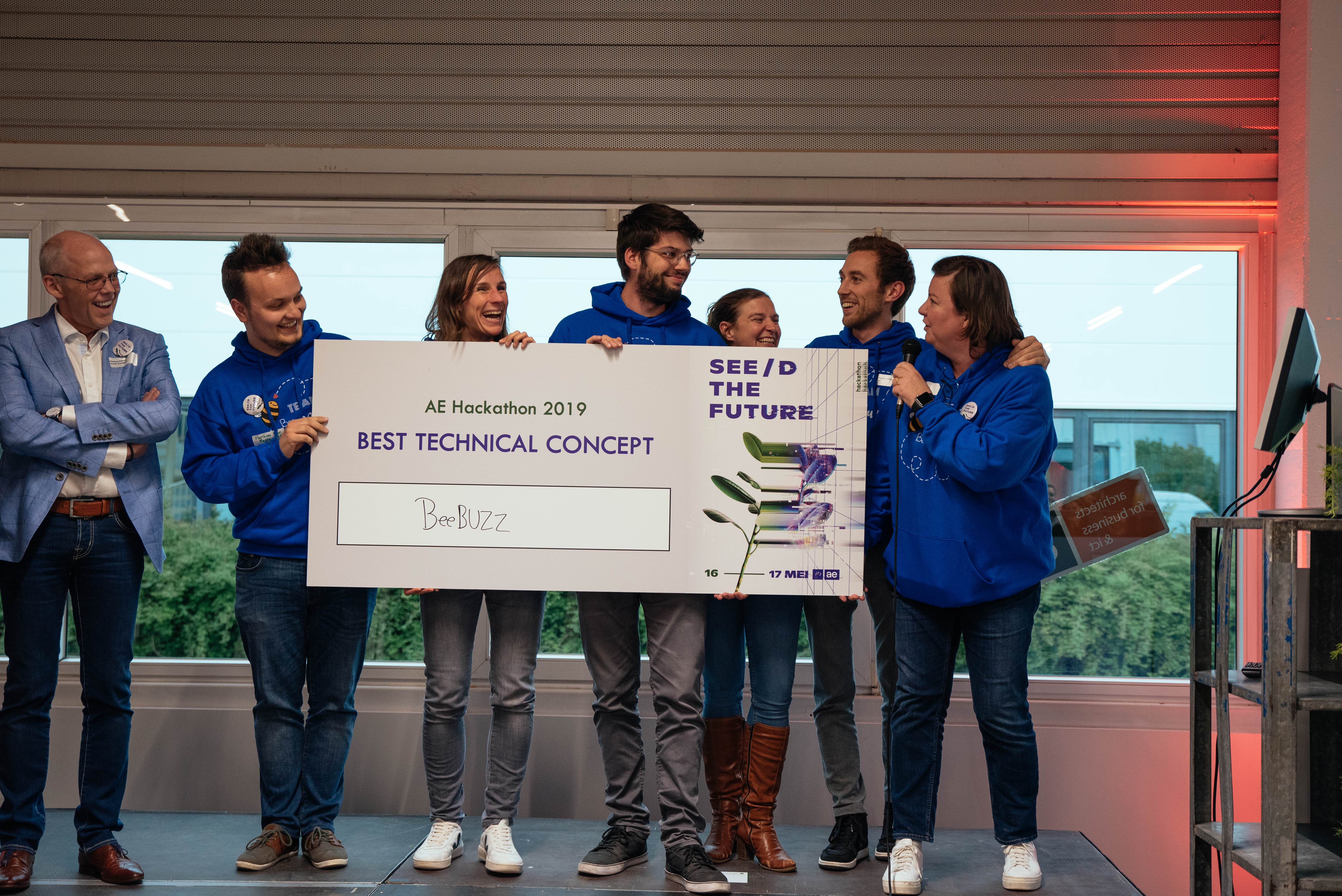 En de Winnaar van Best Technical Concept is…
Met hun live demo tijdens het slotevent wist Team BeeBuzz de jury te overtuigen en sleepte daarmee de Hackathon award voor Best Technical Concept binnen. Het Team maakte dan ook dankbaar gebruik van de Seth & Dunn coaches om hun value proposition scherp te stellen, prototypes te checken en te testen en te zien hoe ze bepaalde assumpties konden wegwerken. Door die degelijke ondersteuning kon het Team zijn mobiele app op punt krijgen en de award wegkapen.