Verpakkingsloos winkelen? Wij zochten het uit!
Colruyt is een oude bekende op onze Hackathon: ook op voorgaande edities was het bedrijf van de partij. Dit jaar schoten er maar liefst drie teams van de organisatie uit de startblokken. En met succes: Team Zero Waste kaapte de publieksprijs weg op het slotevent. Wij spraken met AE teamlid Marleen Hinssen over haar ervaringen tijdens deze hectische 36 uur.
Klimaatvriendelijke winkelen
Verpakkingsloos winkelen om onze afvalberg te verminderen en de plasticsoep te counteren. Met dit ambitieuze idee trok Colruyt naar de 6e editie van onze AE Hackathon. Momenteel bestaan er al winkels met een identiek concept, maar die ondervinden enkele pijnpunten. De schaarste en ligging van dit soort winkels en het beperkte productgamma zorgen ervoor dat zero wast winkels maar moeilijk aan mainstream populariteit winnen. Colruyt ging met het idee aan de haal in een interne ideation sessie en kwam al snel met een zeer oplossingsgerichte tegenhanger.
Marleen vertelt: "Colruyt pitchte al snel zelf het idee om een zero wast truck te introduceren. Zo'n vrachtwagen moet een antwoord bieden op de uitdagingen van de huidige verpakkingsvrije winkels, waarbij het moederbedrijf de data van haar klantenkaarten gebruikt om een aantrekkelijk en dynamisch productgamma aan te bieden. Via een app kunnen klanten met de vrachtwagen interageren. Wij geloven dat dit een schaalbaar alternatief kan zijn voor de huidige supermarkten."


Technologische uitdagingen
Het team maakte gebruik van een veelvoud aan technologieën, gaande van Blockchain tot een mobiele applicatie en automatisch aangestuurde food dispensers. Deze technologieën integreren en de verschillende componenten harmonieus doen samenwerken, hield de technische profielen in het team de volledige 36 uur in de ban.
Een brede business scope
Het idee van de zero waste truck introduceren en vooral kunnen verantwoorden, bleek niet zo gemakkelijk als het lijkt, weet Marleen: "We zijn een heel aantal stappen achteruit moeten gaan om te verifiëren of het idee werkelijk een oplossing was voor ons probleem. We konden hiervoor tijdens de Hackathon rekenen op de kritische invalshoeken van Buffl en Seth & Dunn. 'Don't fall in love with your solution' heb ik hier zeker wel geleerd."
Dat er een grote business component aan dit idee verbonden zit, komt niet als een verrassing. Marleen: "Het was een belangrijke balansoefening om te beslissen wat er gedurende de Hackathon in scope diende te blijven inzake de inspanningen van supermarkten om afval te verminderen . Dit alles gestructureerd en behapbaar in onze pitch brengen, was geen eenvoudige opgave." Winkelen en afval zijn namelijk heel herkenbare onderwerpen voor een publiek. Hoe kan je hen ervan overtuigen dat een mobiele winkel de oplossing kan zijn? Weegt de CO2 uitstoot op tegen de beperking van afval?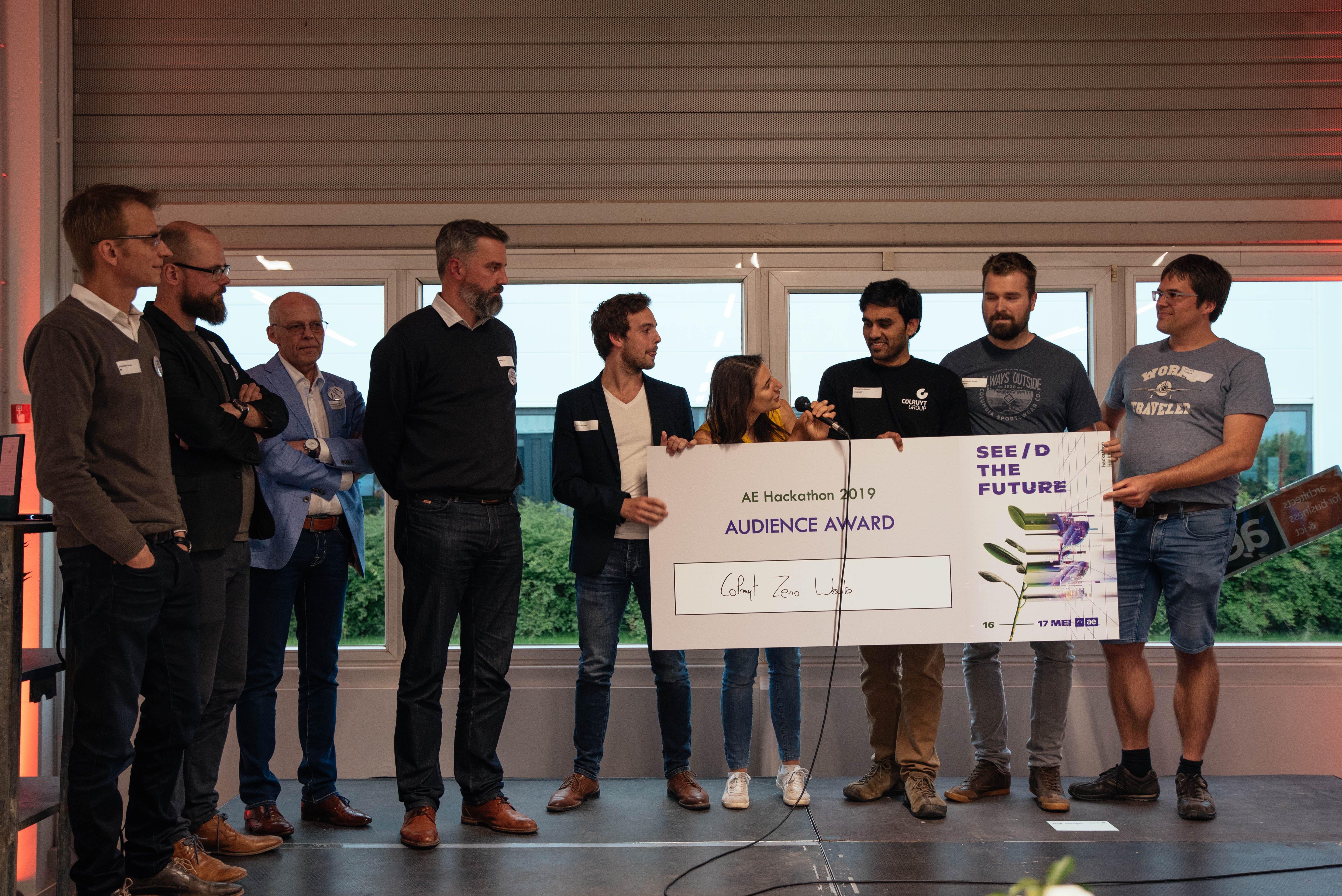 Een intense ervaring voor een groenere toekomst
Op die kritische vragen probeerde het team in een meeslepende pitch antwoorden te bieden. En met succes. Marleen; "We hadden nooit verwacht om ook effectief een prijs in de wacht te slepen. Ik geniet nog na van de intense ervaring. We hebben vooral geprobeerd om het utopische beeld van een zero waste winkel op grotere schaal haalbaar te doen klinken. Dit ligt in lijn met "duurzaamheid" als belangrijk thema binnen Colruyt. Er worden ook verder stappen binnen Colruyt gezet, zoals het feit dat de Colruyt teams intern hun pitch zullen mogen brengen."