De AE Hackathon geeft klanten en prospecten 36 uur om met een innovatief idee én een 'minimum viable product' op de proppen te komen. In juni 2018 waren we al aan onze vijfde editie toe. In deze reeks maak je kennis met alle deelnemers.
Graag gebruiksvriendelijk en creatief
Team VAB richtte zich tijdens de Hackathon op een uitbreiding van hun bestaande Telematics-applicatie, die fleet managers ondersteunt bij het aansturen van de bedrijfsvloot. Hun doel was het ontwikkelen van een gebruiksvriendelijke communicatietool die chauffeurs op een positieve én creatieve manier zou triggeren om hun rijgedrag te verbeteren.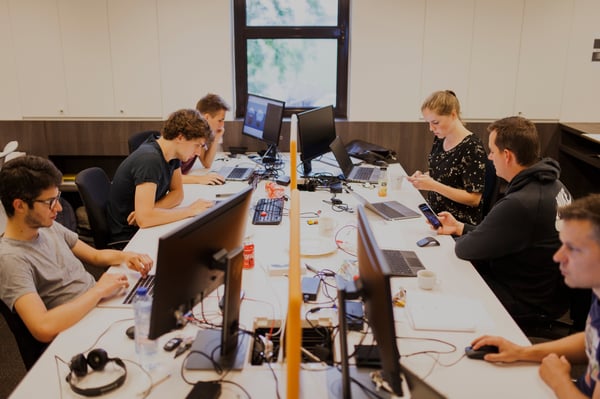 Oog voor trends
Tijdens de Hackathon bouwde Team VAB aan een extensie van de reeds bestaande 'connected car tool'. Momenteel kunnen fleet managers die tool gebruiken om data over voertuigen te verzamelen en via een portaal op te vragen in de vorm van rapporten en alerts. Chauffeurs kunnen via die telematics-app een analyse van hun rijgedrag bekomen, alsook technische foutcodes, de locatie van hun voertuig en een overzicht van de ritten die ze aflegden.
Omdat VAB vandaag een groeiende maatschappelijke focus op veiliger rijden met extra aandacht voor het milieu en duurzaamheid vaststelt, ging het team met de Hackathon de uitdaging aan om vlootverantwoordelijken op dat vlak hun steentje te helpen bijdragen.
Gamification voor het milieu én het budget
In 36 uur tijd bouwde Team VAB een applicatie waarmee vlootverantwoordelijken chauffeurs via gamification kunnen aansturen. De verantwoordelijke bepaalt zelf de doelen van de verschillende games en kan teams samenstellen. De chauffeurs kunnen op hun beurt een navigatietool naar keuze selecteren – een gsm-app hoeven ze niet te downloaden.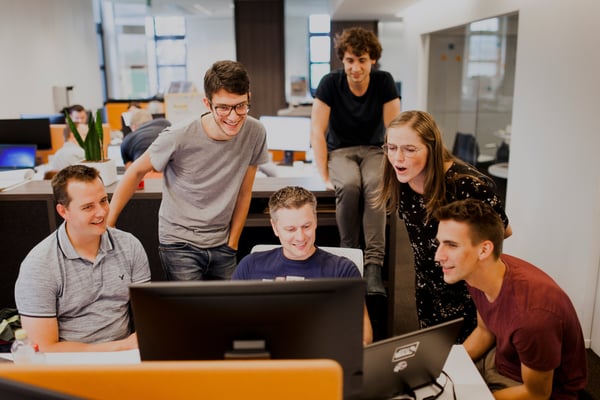 De app werd ontwikkeld in Outsystems, een rapid development tool met debugger om snel tot een werkend minimum viable product te komen. Extra troeven van de applicatie? De app baseert zich op realtime data die hij uitleest via de OBD-stekker in de wagen en integreert de tooling van Avola, zodat gebruikers hun eco-score kunnen berekenen. Omdat de score kan worden opgenomen in de games, kunnen gebruikers door milieubewust te rijden bijvoorbeeld een game winnen. Avola houdt bovendien ook rekening met alternatief vervoer van en naar het werk, zoals de fiets of het openbaar vervoer.
Alles bij elkaar is het resultaat van de Hackathon een uitdagende app die de duurzaamheid van het wagenpark vergroot door chauffeurs aan te sporen om veiliger en milieubewuster te rijden. Zo neemt het aantal schadegevallen af en besparen fleet managers flink op de Total Cost of Ownership.