De AE Hackathon geeft klanten en prospecten 36 uur om met een innovatief idee én een 'minimum viable product' op de proppen komen. In juni 2018 waren we al aan onze vijfde editie toe. In deze reeks maak je kennis met alle deelnemers.
Afrekenen met zwerfvuil? Goed voor je karma!
Zwerfvuil vormt een grote ergernis in het straatbeeld. Gemeentes en overheden investeren jaarlijks dan ook aanzienlijke budgetten in initiatieven om de straten schoon te maken en te houden. De actie "Mooimakers" alleen al werkt bijvoorbeeld met een budget van 9,6 miljoen per jaar. Steden zelf besteden grote bedragen aan zwerfvuilacties, maar inzicht krijgen in de gebruikers blijkt een pittige opgave. Team Karma Village vertrok vanuit deze probleemstelling en bedacht een manier om burgers en overheden met elkaar in contact te brengen.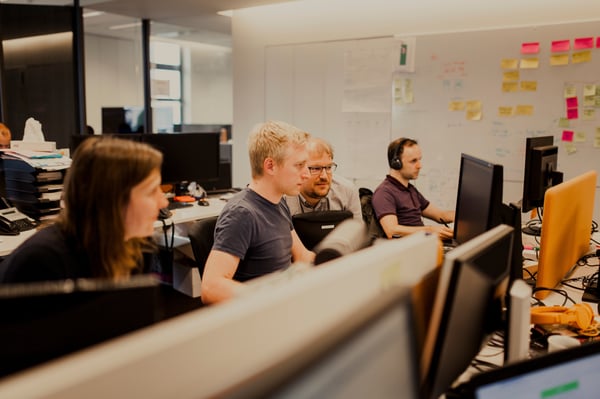 Een mooiere buurt wordt kinderspel dankzij gamification
Hun antwoord is het Karma Village platform, een sandbox- of openwereldspel dat de omgeving verandert in een digitale buurt. In de applicatie kunnen mensen elkaar aanmoedigen om een goede daad te verrichten. Die aanmoedigingen gebeuren door middel van gamification. Problemen in de buurt verschijnen in de app als "quests" en gebruikers kunnen digitaal Karma-punten sprokkelen door problemen in hun buurt op te lossen. Dat kan gaan van het melden van zwerfafval of een slecht wegdek tot het terugvinden van een weggelopen kat. Het is ook mogelijk om zelf quests toe te voegen. De applicatie begeleidt de gebruiker tijdens het aanmaken van de quest en geeft buurtgenoten die geïnteresseerd zijn om te helpen een seintje. De verworven digitale punten kunnen daarna ingezet worden op lokale evenementen.
Een Minimal Viable Product met grote ambities
Als er op termijn grotere partners mee op de kar springen, kan het puntensysteem uitgroeien tot een volledig uitgewerkte Karma Economy met (inter)nationale acties in samenwerking met supermarkten of merken. Concreet werd het voorbeeld aangehaald van Mei Plasticvrij, waarbij supermarkten hun klanten aansporen om glazen in plaats van plastic flessen te kopen. Zo kan de gebruiker Karma-punten sparen die hij bijvoorbeeld mag omruilen voor een herbruikbare drinkfles.
Als extraatje kun je de applicatie Karma Goggles gebruiken om de Karma-mensen in jouw buurt te herkennen en zo hun Karma-ranking te zien. Hiervoor gebruikt de app enerzijds Artificial Intelligence voor gezichtsherkenning en anderzijds Augmented Reality om te tonen welke ranking een gebruiker heeft. Afhankelijk van het aantal punten, reïncarneert elke gebruiker namelijk in een bepaald dier.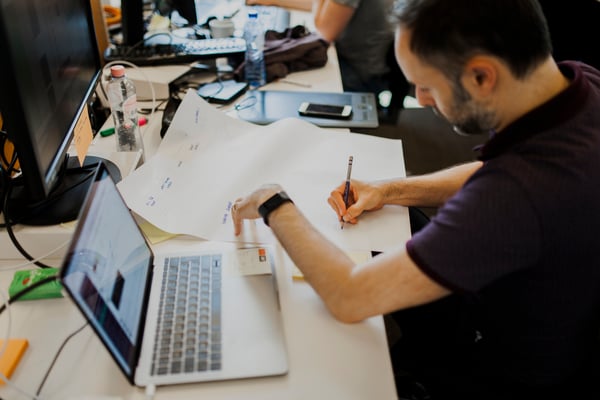 Double diamond-model met oog voor user experience
Tijdens de hackathon bouwde Team Karma Village aan een demoversie die in staat is drie verschillende situaties automatisch te herkennen. In 36 uur doorliep het team versneld de vier fases van de double diamond-techniek: zo werd er tijdens de opstart breed geëxperimenteerd (ontdek-fase). Hieruit werden de voorwaarden voor een minimal viable product gedestilleerd (definieer-fase). Team Karma Village legde een sterke focus op de technische uitwerking van hun idee en werkte vooral met de eerder aangehaalde Artificial Intelligence. In de frontend werd er voor het framework vue.js. gekozen (ontwikkel-fase). Doorheen het hele proces werd er ruimschoots aandacht besteed aan user experience met zogenaamd 'delightful design', door bijvoorbeeld functionele animaties toe te voegen die gebruikers aansporen om een actie uit te voeren. Op die manier werd het gamification-aspect geoptimaliseerd.
Het resultaat van dit project (oplever-fase) is een digitale buurt die het mogelijk maakt om buurtbewoners niet alleen virtueel, maar ook fysiek met elkaar in contact te brengen, elkaar te helpen en uiteindelijk dichter bij elkaar te brengen.