Partena Professional en Wolters Kluwer sloegen deze hackathon de handen in elkaar onder de naam Tetris voor de uitwerking van een advies tool die consultants in de toekomst kan ondersteunen. Concreet vertrok Partena Professional vanuit hun adviserende en ondersteunende rol bij ondernemingen, waarbij Wolters Kluwer meer focuste op de technische uitwerking als partner. (Startende) ondernemers hebben begeleiding nodig in HR-gerelateerde zaken. Hiervoor kunnen ze terecht bij B2B consultants die advies kunnen geven vanuit hun expertise. Zowel Partena Professional als Wolters Kluwer streven naar het beste en meest correcte advies voor deze vragen.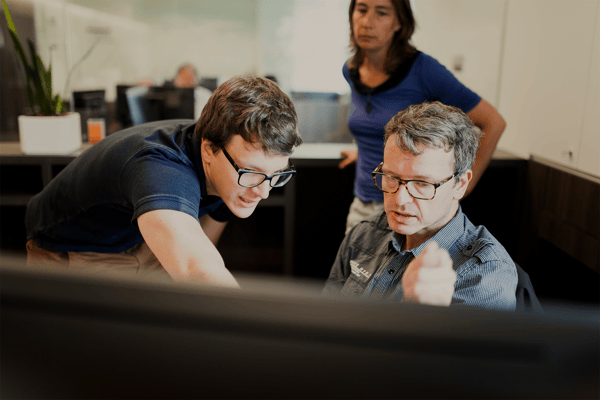 In de praktijk blijkt dat veel van deze vragen gelijkaardig zijn, en dat er waarschijnlijk in het verleden al een antwoord is geformuleerd. Toch moeten consultants keer op keer, zonder enige voorkennis van eerdere adviezen van hun collega consultants, de vragen behandelen. Afhankelijk van het niveau van competentie van de consultant, kunnen antwoorden op gelijkaardige vragen sterk afwijken. Het advies kan verschillen in kwaliteit of perspectief. Team Tetris heeft de ambitie om enige uniformiteit in de antwoorden te brengen. Bovendien is zo'n 50% van de vragen vrij eenvoudig te beantwoorden. Desondanks nemen de experten de tijd om een grondig antwoord te formuleren op deze problemen. Al deze factoren resulteren in een tijdrovend, inefficiënt proces, waarbij aan de consultants weinig tijd overblijft om de kern van de situatie van de client te ontdekken en waarbij er eerder in een vraag-antwoord modus geopereerd wordt.
Uitwerking My Advisor
Team Tetris bedacht daarom My advisor, een Artificial Intelligence gedreven tool die een antwoord genereert op basis van eerder experten advies. De tool kan een situatie interpreteren en gaat op zoek naar het meest relevante respons uit een database van meer dan 200.000 documenten. Er wordt dan een document geconstrueerd uit de informatie van toepassing op de concrete vraag. De consultant kan dit document valideren of aanpassen om de tool verder aan de scherpen zodat deze op termijn nog accuratere info kan verschaffen. Het advies vanuit de tool zou consultants moeten ondersteunen in hun dagdagelijkse activiteiten zodat zij meer tijd kunnen besteden aan het persoonlijke verhaal van hun client.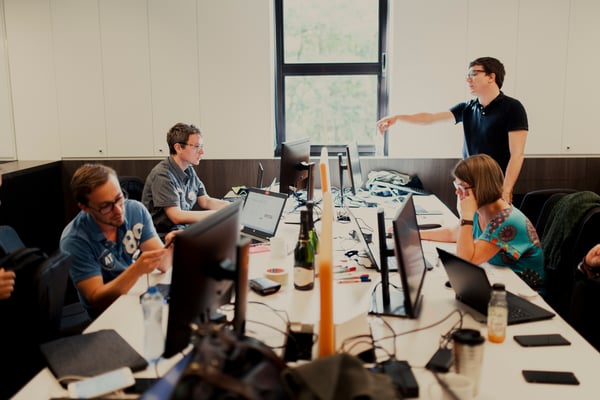 Tijdens de Hackathon had team Tetris een grote dataset tot haar beschikking. Na een analyse en clean-up hebben ze zich vooral gefocust op de conversaties uit het mailverkeer, waarin de meeste vragen gesteld worden. De demoversie getoond op het slotevent gebruikte een ratingsysteem met thumbs up & down om de resultaten te beoordelen. Vat krijgen op de impact van dit systeem om de tool te laten leren uit deze feedback bleek niet evident en vraagt bij de verdere uitbouw van dit project voor een betere finetuning.
Resultaten
Het resultaat is een tooling waarin gebruikers verzekerd zijn van expertadvies met een bewezen kwaliteit en een snellere respons. Ze kunnen bovendien rekenen op een ingebed kader van consultants in plaats van een individu. Consultants kunnen van hun kant hun focus verleggen naar een meer persoonlijke begeleiding van hun clienten. Zij kunnen bovendien hun expertise verder uitbouwen omdat de administratieve rompslomp mee wordt opgenomen in de tool.
Naarmate de tool verder leert, wordt het mogelijk om vanuit Partena Professional consultancy anywhere, anytime, anyhow te bieden.