Een grote verschuiving die ik heb opgemerkt in de digital transformation journey is die van het denken in termen van applicaties naar platformen.
Laat me toe kort te beschrijven wat ik daar precies mee bedoel.
Traditionele verticale applicaties binnen silo's
Traditionele applicatielandschappen zijn gegroeid uit onze interne organisatieprocessen en zijn meestal gevormd op basis van functionele silo's als producten & diensten, sales & marketing, delivery & customer support. Ze zijn bovendien typisch ontworpen om een bepaalde interne gebruiker met een eigen functionele focus te dienen.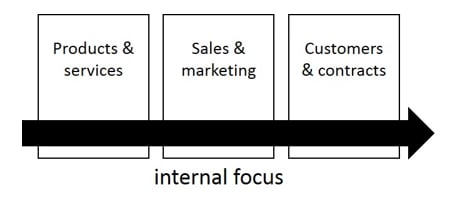 De introductie van transversale horizontale systemen
Doorheen de jaren werden er meer en meer horizontale systemen geïntroduceerd om transversale organisatienoden te ondersteunen, zoals bijvoorbeeld marketing & communicatie, data warehousing, rapportering en business intelligence.
Om deze systemen te laten samenwerken, hebben we verschillende integraties opgezet tussen de verticale, gespecialiseerde applicaties en de horizontale transversale systemen. Het gevolg daarvan is dat onze technologielandschappen een flink stuk complexer zijn geworden.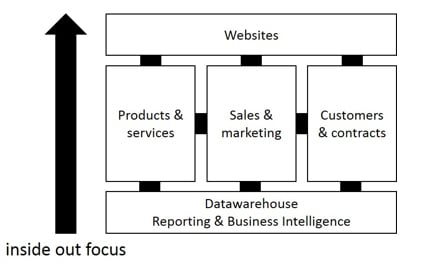 Maar al deze inspanningen hebben niets veranderd aan het feit dat het merendeel van de huidige technologielandschappen voornamelijk 'inside out' ontworpen worden.
Op naar digitale platformen
Als we onze organisaties willen optimaliseren met het oog op waardecreatie in een digitale wereld moeten we dichter bij de markt gaan opereren en klanten, partners en fysieke producten stevig gaan integreren in het businessmodel. Dit houdt in dat we onze technologielandschappen grondig moeten gaan hervormen.
Het is nodig dat we technologie gaan beschouwen als een platform dat mensen, organisaties en producten digitaal met elkaar verbindt in waarde-creërende netwerken.
We dienen hierbij te vertrekken van een outside-in perspectief om klanten, producten, partners en andere stakeholders op een digitale manier in ons waardegedreven ecosysteem te integreren. Om met al deze leden van het systeem te kunnen connecteren, dienen er interactie- en engagementlagen gebouwd te worden.
En natuurlijk mag in dat hele plaatje het inside-out perspectief niet vergeten worden. Per slot van rekening moeten de interne operationele processen gealigneerd worden met de customer experience en moet de bedrijfsdata in de (bestaande) systems of record beheerd worden.
Daarnaast moeten we ook denken aan de 'cross-cutting concerns' waar we mee moeten omgaan om successen te boeken in de digitale wereld: security, integratie, inzichten en analytics, rapportering, collaboratie etc.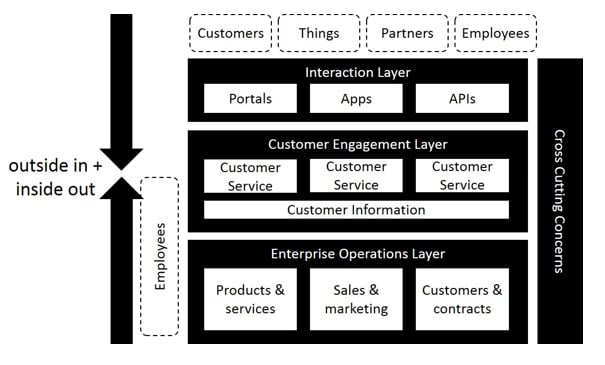 In dit alles dienen we goed te beseffen dat we customer journeys en technologische ontwikkelingen niet kunnen voorspellen of controleren. Daarom moeten we voortdurend kunnen experimenteren, meten en leren. Zo kunnen we ons platform op een agile manier aanpassen aan de evoluties en trends in de markt.
Dat is echter een hele uitdaging voor heel wat bedrijven. In mijn boek over waardecreatie voor de digitale wereld dat binnenkort verschijnt, beschrijf ik zowel een referentiemodel voor digitale platformen als een pragmatische aanpak om die platformen stap voor stap te implementeren, outside in.
Wil je meer weten over digitale transformatie? Neem dan contact met ons op.