Vorige maand organiseerde ik een verkennende Lego Serious Play sessie op kantoor. Het opzet was om de techniek beter te leren kennen, te ervaren wat de voor- en nadelen zijn en te kijken waarvoor LSP kan worden toegepast.
"Kijk hen daar een beetje met Lego spelen. Wat denken ze daarmee te bereiken?"
"Kan je door met Lego te spelen echte problemen oplossen? Ik dacht het niet."
"Zeg, er zijn ook mensen die hier echt moeten werken. Bende kinderen!"
Zo extreem waren de reacties bij AE niet, maar allicht dachten sommige van onze collega's wel iets in die zin toen ze ons bezig zagen. Zelfs de deelnemers waren vrij sceptisch toen onze Lego Serious Play sessie van start ging. En wie kon ze ongelijk geven? Stel je voor dat je de grootste uitdagingen van je organisatie kan oplossen met Lego. Eerder moeilijk, niet?
En toch werkt LSP. Het heeft alles te maken met visualisatie en storytelling.
Visualisatie is een techniek die zijn nut bewezen heeft. Hij wordt niet alleen gebruikt door Lego, maar helpt je ook onthouden. Het bouwen van modellen met Lego visualiseert deze modellen voor elke deelnemer aan de workshop en helpt hen te begrijpen wat de bouwer probeert te vertellen. Daardoor wordt het veel eenvoudiger om te onthouden wat er gezegd werd.
De kracht van Legoconstructies is dat ze je toelaten om een verbinding te maken tussen verschillende standpunten en aanpakken wanneer de afzonderlijke 'bouwwerken' met elkaar worden gecombineerd. Zo kan je een gedeeld model creëren dat de oplossing voor een bepaald probleem visualiseert.
Storytelling zorgt er dan weer voor dat iedereen begrijpt wat er met een bepaalde creatie bedoeld wordt. In se kan je alles bouwen wat je maar wil, maar het verhaal dat je erbij vertelt, maakt het tot het ding dat je wilt dat het is. En het corrigeert desnoods ook het beeld dat anderen voor zichzelf hebben gevormd van je creatie. Het storytelling gedeelte mag dus zeker niet worden genegeerd.
Een LSP-workshop is pas succesvol wanneer iedereen deelneemt en ook daar heeft storytelling een hand in: iedereen moet aan bod komen. Dat zorgt er tegelijkertijd ook voor dat mogelijke kapers van de workshop (bvb. de schreeuwerigste deelnemers) hun ideeën niet aan de groep kunnen opdringen.
Een minpunt aan dit alles is dat de mensen die niet in de workshop zaten wanneer het model gebouwd werd en dus ook niet alle achtergrondinformatie meekregen iets moeilijker zullen begrijpen wat het model representeert. Daarom hebben we onze LSP-sessie opgenomen op video.
Voor de techniek heb je ook de juiste soft skills nodig: je kan niet gewoon iets bouwen en dan uitleggen; je moet ook goed kunnen luisteren naar wat andere deelnemers te zeggen hebben, want interactie is heel belangrijk tijdens dit soort workshop.
Een niet te onderschatten factor is de aanwezigheid van een goede facilitator. Er zijn verschillende manieren om met verschillende problemen binnen je bedrijf om te gaan. Eens je je 'probleem' gekozen hebt om te behandelen, is het aan de facilitator om te interpreteren wat dit probleem precies omvat. En daarnaast moet hij of zij analyseren wat de verwachte uitkomst van de sessie zal zijn en hoe de deelnemers daar ook effectief toe komen.
Daarom hebben we bij AE Marc Sonnaert van The Duck Academy uitgenodigd. Marc en zijn collega's zijn gecertifiëerde Lego Serious Play facilitators en hebben al menig bedrijf geholpen bij het aanpakken van uiteenlopende issues.
Takeaways
Stel een duidelijke scope voorop zodat de facilitator de beste aanpak naar voor kan schuiven
Hou er rekening mee dat er verschillende stappen te doorlopen zijn afhankelijk van de bepaalde scope
Stel vragen met een open einde
Neem foto's en film de sessie
Indien mogelijk, stel het uiteindelijk gebouwde model tentoon op kantoor
Hier zijn enkele foto's van onze workshop om je een beter beeld te geven van een LSP-sessie: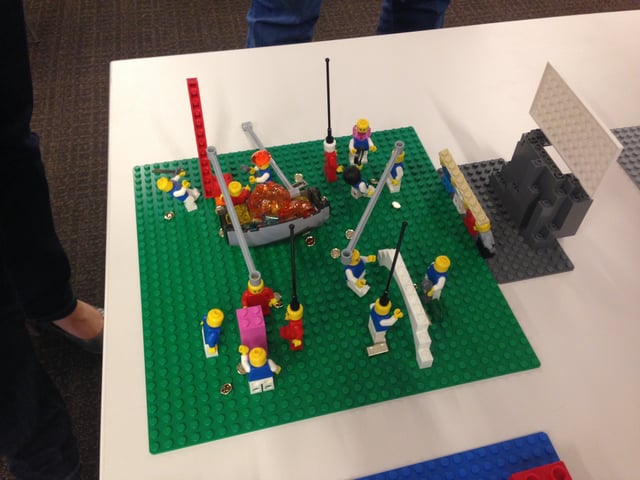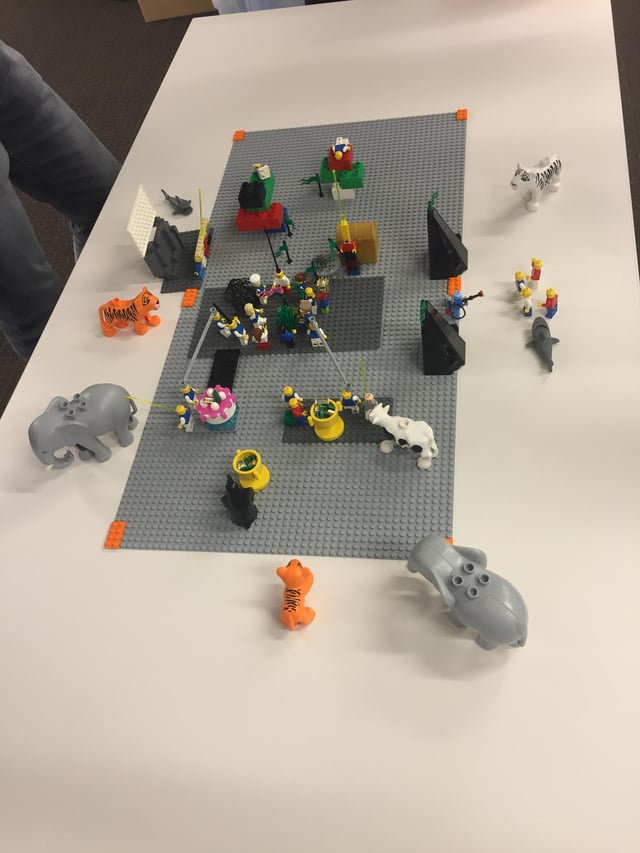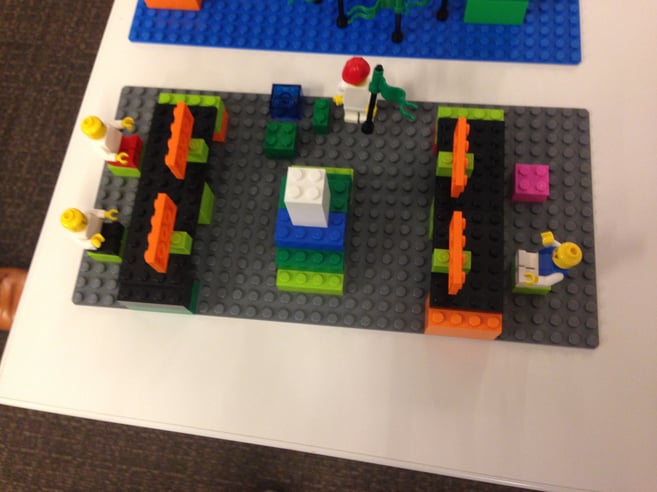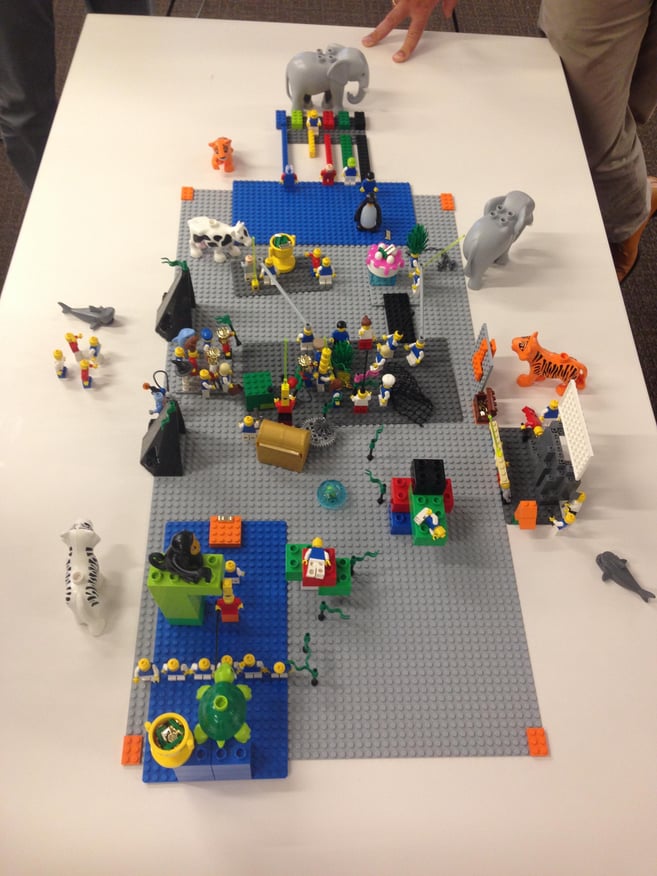 Wanneer je van plan bent om een workshop te houden, denk dan zeker aan Lego Serious Play. De mogelijkheden zijn legio: het definiëren van nieuwe business, (re)designen van business services, customer journeys ontwerpen of in kaart brengen, …
Bij AE bieden we verschillende types van workshops aan. Het is belangrijk dat je de juiste techniek kiest in functie van het doel dat je voor ogen hebt. Contacteer ons als je problemen hebt bij het kiezen van de juiste workshop of wanneer je hulp nodig hebt bij het faciliteren ervan. We helpen je graag verder!
Header image credit: Lewis Tse Pui Lung / Shutterstock.com