Een vaak voorkomend punt op projecten is dat de doelstellingen niet duidelijk gedefinieerd zijn Een Benefit Map is krachtige visual om daarbij te helpen.
Heb je al de indruk gehad dat niet iedere stakeholder dezelfde verwachtingen heeft van een project? Dat er te veel tijd wordt besteed aan zaken die weinig belangrijk zijn? Dat niet iedereen begrijpt waarom een project wordt uitgevoerd? Inderdaad: een vaak voorkomend probleem is dat project doelstellingen niet scherp zijn.
Een zeer krachtige visual die dit kan aanpakken is een Benefit Map. In dit artikel leg ik uit wat een Benefit Map is, hoe we dit hebben toegepast binnen AE in het kader van een pakketimplementatie en hoe je de eerder vermelde problemen ermee kan vermijden.
Wat is een Benefit Map?
Een Benefit Map is een voorstelling van doelstellingen en de manier waarop we veronderstellen dat deze doelstellingen zullen worden bereikt. Een Benefit Map bevat verschillende niveaus. De Benefit Map kan in verschillende vormen worden toegepast, waarin bepaalde niveaus kunnen worden weggelaten of hernoemd.
Hoe maak je een benefit map?
Binnen AE zijn we volop bezig aan de implementatie van een geïntegreerd ERP-pakket ter ondersteuning van processen binnen BDM, OPS, Finance en HR. De Benefit Map binnen dit project is een cruciaal plaatje en bestaat uit drie niveaus: Goals, Enablers en Requirements.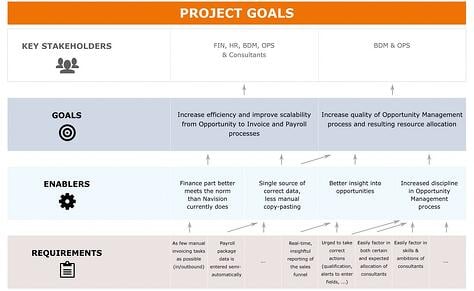 De Benefit Map ziet er uit als een eenvoudige figuur. Echter, het proces dat erachter zit om deze op te stellen en de informatie die zo naar boven wordt gehaald mag zeker niet worden onderschat. Jouw stakeholders hebben dergelijk totaalbeeld niet klaar zitten in hun hoofd. Verder verwarren mensen typisch doelstellingen met manieren om een doelstelling te bereiken en moet de echte doelstelling bovendien nog scherp gesteld worden. Elementen zoals 'we moeten een verhoogd inzicht hebben in onze opportuniteiten' of 'de data in het payroll pakket moet semi-automatisch ingevuld worden' zijn belangrijk in de pakketimplementatie bij AE maar het zijn beide geen doelstellingen op zich. Het zijn respectievelijk een enabler en een requirement die zullen helpen om de hoger liggende doelstellingen te bereiken. Het opstellen van een Benefit Map helpt om dergelijk onderscheid scherp te stellen.
Wat zijn de voordelen?
Een zeer belangrijk voordeel van een Benefit Map is dat het je helpt om doelstellingen scherp te stellen. Bovendien zorgt de figuur voor traceability van alle acties tot deze doelstellingen. Belangrijk hierbij is dat assumpties (de pijlen op de Benefit Map) expliciet worden en dat deze kunnen gechallenged worden. Bij twijfel over een assumptie wordt dit best zo snel mogelijk afgetoetst (kan via prototyping, survey, demo, ...).
Een ander voordeel van een Benefit Map is dat je 1 duidelijke figuur hebt die aan alle stakeholders duidelijk maakt wat de doelstellingen zijn van een project en hoe je die wil bereiken. Zo kan je prioriteiten stellen: je vermijdt zinloze discussies over elementen die op geen enkele manier bijdragen aan de hoofd doelstellingen. Mocht een stakeholder andere belangen willen nastreven binnen het project, kan je verwijzen naar de benefit map om alle neuzen opnieuw in dezelfde richting te brengen!
Contacteer ons als je meer wil weten over het toepassen van de Benefit Map-techniek.