We leven vandaag in een zeer competitieve wereld. De concurrentie ligt op de loer, klanten worden veeleisender en nieuwe technologieën en regulering zijn in staat uw bestaande businessmodel in sneltreinvaart te ondermijnen. Kennis, en -nog veel belangrijker- het delen ervan, zijn in zo'n tijden essentieel. Organisaties en mensen die sneller en effectiever leren, zitten in de poleposition.
Ook binnen AE is het verwerven en delen van kennis erg belangrijk. Leren en kennis delen kan op heel wat verschillende manieren. In deze blogpost laten we u meekijken hoe we in de AE Financial Services community op creatieve manier zijn omgegaan met kennisdeling via onze in-house crypto competition.
Kennisdeling brengt heel wat uitdagingen. Hoe consolideer je kennis over een relatief onbekend onderwerp? Hoe creëer je engagement bij medewerkers om ook buiten de werkuren om kennis te verwerven en te delen? Hoe consolideer je kennis en zorg je dat deze niet verloren gaat wanneer collega's het bedrijf verlaten. AE investeert daarom veel in haar kennisplatformen en trainingdays en begeleidt vanuit haar ervaring intussen ook andere bedrijven in hun transformatie naar een "lerende organisatie".
Binnen de AE Financial Services community zijn deze uitdagingen niet anders. Daarom vonden we een originele manier om onze community kennis te verruimen rond crypto currencies en vooral rond relevante toepassingsdomeinen.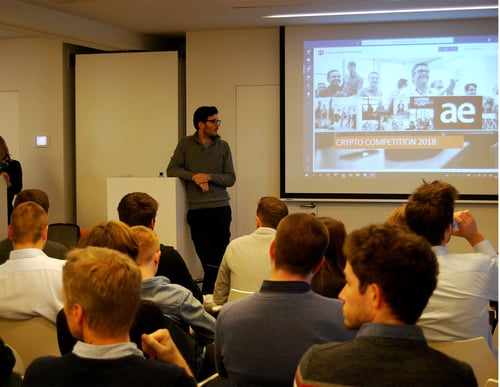 Een competitie leek de ideale formule om de bestaande kennis uit te breiden, te verspreiden en er ook een gezonde ambitie en tempo in te houden. Per team van 3 konden geïnteresseerden zich inschrijven. Concreet werd hen gevraagd een crypto-project te kiezen, dit te onderzoeken en te ontleden in functie van een aantal dimensies. Zo namen ze de haalbaarheid van het businessplan onder de loep, evenals de maatschappelijke relevantie en de technologische dimensie i.e. het gebruik van blockchain. Deze kennis werd gebundeld om de inzichten concreet bruikbaar in te zetten in projecten.
We delen graag de 4 take-aways, belangrijk voor elk bedrijf dat kennisdeling tot één van haar doelstellingen rekent:
1. Don't forget the fun

Kennisdeling moet niet altijd een serieuze aangelegenheid zijn. In onze challenge voorbonden we een deel (30%) van de scoring aan de performance van een crypto-portefeuille. De teams kozen zelf een munt om te investeren en te traden. Gezien de recente evolutie van de meeste crypto currencies was dit een ludieke, doch best wel spannende manier om inzicht te verwerven in de crypto-wereld. Op basis van de performance veroverde elk team zo een deel van de punten.

2. Get the community involved

Het is niet alleen belangrijk om kennis te verwerven en consolideren, deze efficiënt beschikbaar stellen en verspreiden in de volledige community is net zo belangrijk. De hoofdmoot van de punten was dan ook te verdienen bij de slotpresentatie, de "pitch", op onze laatste trainingday, waar de volledige community kon luisteren en stemmen over welk team de hoofdprijs in de wacht sleepte. Het publiek evalueerde elk project op de verschillende dimensies. Kennisoverdracht wordt zo tastbaar.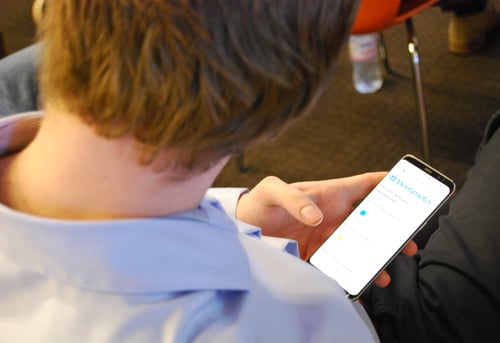 3. Keep checking in


Tijd, en vooral het gebrek eraan, is de belangrijkste uitdaging voor kenniswerking. De wedstrijd liep van het voorjaar tot en met de herfst om voldoende tijd te laten voor de consultants. De kenniscoördinatoren stonden in voor het bewaren en bewaken van de kwaliteit en de animo voor dit project. Zij informeerden regelmatig bij de teams hoe ver ze stonden, waar er hulp nodig was… Op die manier hield het organiserend team vinger aan de pols en bleef het project top of mind bij de consultants.

4. Reward knowledge sharing

Eén manier om kennisdeling te stimuleren, is erkenning. Dit kan op verschillende manieren gebeuren. In dit project kozen we voor een combinatie. Deelnemen leverde sowieso een kleine prijs op, een geschenkbon als dank voor elkeens kennisbijdrage. De winnaars kregen op hun beurt een geldbedrag te besteden aan een uitdagende, leuke kenniswervingservaring naar keuze. Voorts belonen we alle teams door extern te communiceren over hun projecten.


We zijn erg trots op de resultaten voor de AE Financial Services community. De kennis over crypto-currencies en de concrete use cases binnen onze organisatie is verstevigd en concreet bruikbaar om klanten te helpen bij blockchain projecten.

Uiteraard delen we dit graag. Via de AE blog zoomen we de komende weken in op enkele concrete projecten. Wil je op de hoogte blijven? Hou dan zeker de AE blog in de gaten.