Al sinds 2011 mogen wij ons jaar na jaar een Great Place to Work noemen. Op 19 maart 2019 werd dit in het Brusselse Docks Dome nogmaals bevestigd: AE werd verkozen tot 2e beste werkplek van 2019 voor Belgische bedrijven met minder dan 500 werknemers, voor de negende keer op rij.
"Fantastisch om weer zo'n mooi resultaat te behalen", aldus AE HR Director Luc De Bodt. "Wij zien dit echter als meer dan een kers op de taart. Voor ons is dit een werkinstrument. Zo kunnen we ons vizier telkens weer scherp zetten en verder bouwen aan onze toekomst, want we zijn altijd op zoek naar verbetering."
Feedbackcultuur
Concreet gaan we heel gericht aan de slag met de zeer uitgebreide feedback die we krijgen van Vlerick Business School, die in België partner is van het wereldwijde instituut GPTW. Elk jaar voert Vlerick bij deelnemende bedrijven een onderzoek uit, bestaande uit twee delen. Een medewerkersbevraging die anoniem gebeurt en een dossier waarin best practices vanuit HR worden aangetoond.
"Die feedback van onze mensen nemen we heel serieus: we willen in kaart brengen in welke mate die medewerkers vertrouwen hebben in de mensen voor wie ze werken, trots zijn op wat ze doen en samen plezier beleven op de werkvloer", aldus De Bodt. "Deze samenhorigheid of camaraderie is onze grootste troef."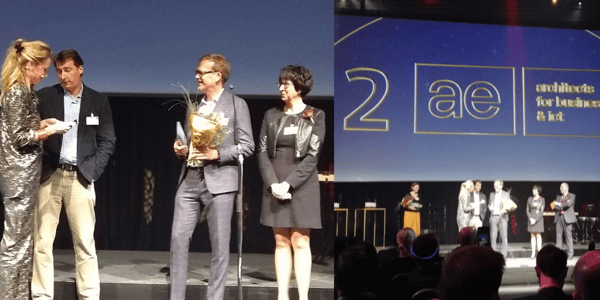 Great Place to Work: écht?
We blijven inzetten op het aantrekken van mensen die bij ons DNA passen, en waarbij cultuur primeert op expertise. We kijken ook op die manier naar klanten en hun vragen, en durven al eens te zeggen wat we niet zullen doen. Consistent zijn naar die twee markten werkt een positieve spiraal in de hand.
"En ook door een award als Great Place to Work trekken we de juiste partners, klanten en werknemers aan", aldus De Bodt. "Concreet: vorig jaar begon er per week gemiddeld één nieuwe werkkracht. Je kan dus zeker spreken over een positieve spiraal." En ook in de andere richting blijk er een effect te zijn. "In consulting ligt het verloop al snel tegen de 20 %, en bij AE is er een verloop van zo'n 7 %."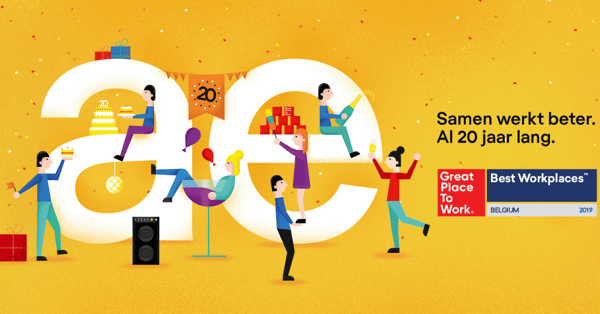 #aetrakteert
Op woensdag 20, donderdag 21 en vrijdag 22 maart loopt onze jaarlijkse taartencampagne om onze GPTW-award te vieren met onze klanten, partners en medewerkers. Deze 600 (!) taarten komen van patissier Zuut in Leuven, gekroond door een Gault&Millau-erkenning.
Benieuwd naar de reacties van onze collega's? Ontdek meer Great Place to work nieuws hier: https://www.ae.be/gptw