Since 2011, the people of AE can proudly say they work at a Great Place to Work. On March 19, 2019, this was confirmed once again at the Docks Dome in Brussels: AE became 2nd best workplace and can call itself a Great Place to Work for the ninth time in a row.
"Great to achieve such a fantastic result again," says our HR Director Luc De Bodt. "However, we see this as the cherry on top. We use the Great Place to Work survey as a tool. In this way we can keep our sights on the future, with a heavy focus on improvement.
Feedback Culture
Every year, we examine the extensive feedback we receive from Vlerick Business School, which is a partner of the worldwide institute GPTW in Belgium. Vlerick conducts an annually research at the participating companies, consisting of two parts: On the one hand, they conduct an anonymous employee survey. On the other hand, each company needs to build a file in which the best HR practices are demonstrated. Important to know is, that two-thirds of the final score is determined by the results of the company's own employees.
"We take the feedback from our colleagues very seriously: we want to understand to what extent our employees have confidence in us. We want to know if they are proud of what they achieve and if they have fun at their workplace," says De Bodt. "The feeling of togetherness or the camaraderie between colleagues is our greatest asset."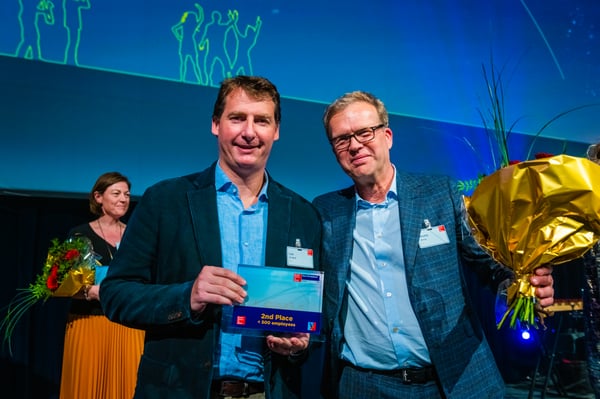 Putting our Great Place to Work into practice
We continue to focus on attracting people who fit our DNA, and let culture fit outweigh expertise. In the same way, we approach customers and their challenges, and we dare to communicate our limits. Being consistent towards those two markets encourages a positive spiral.
"An award such as Great Place to Work facilitates us in attracting the right partners, customers and employees," says De Bodt. "And with succes because in 2018, we hired no less than 52 new employees. On average, every week a new person started." There appears to be an effect in the other direction too: "In consulting, the outflow is mostly around 20%, while at AE, we experience an outflow of merely 7%."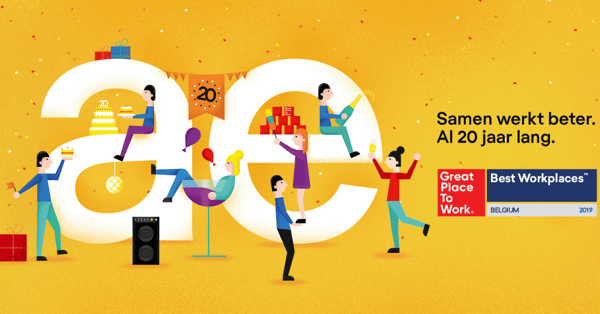 #aetrakteert
To celebrate our GPTW award with customers, partners and employees, we run an annual cake campaign from Wednesday 20th until Friday 22nd. These 600 pies are produced by Pastry chef Zuut in Leuven, crowned with a Gault&Millau recognition.
Curious about the reactions of our colleagues? Discover more Great Place to Work news here: https://www.ae.be/GPTW2019