Yesterday, March 9, our very own Valerie Taerwe was honored to be named Young ICT Lady of the Year 2017 by Data News.
Beaming with enthusiasm after receiving the award during the award ceremony in Brussels, Valerie spoke to us about what the title means to her, the work to be done for women in ICT and what her future plans are.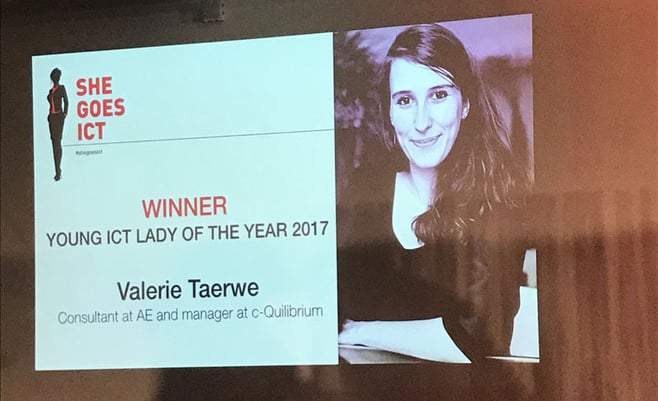 How does it feel to be the Young ICT Lady of the Year?
It's quite an honor! The award is definitely a crowning achievement for the last couple of years: next to G-Flux (the mobile startup I founded together with a few friends while still in college), I've been able to cut my teeth on projects for bpost, Jan De Nul, Securex and c-Quilibrium.
And last but not least, together with the Accelerator team at AE, we can give entrepreneurship and innovation at our costumers the push it needs. I've heard that the jury appreciated this wide range of activities.
What was the award show itself like? What went through your head when you were standing on the stage, holding the award?
A great number of people that I work with day in and day out were there with me and it's a great feeling to experience that the people you love are proud about what you've achieved.
Also worth noting was the strong speech by Valerie Tanghe, who pointed out that there's a lot of work to be done still in terms of gender equality and that women should keep on fighting for the rights they've got. There's a need for feminism 2.0, especially now with Donald Trump in the driver's seat in the US. This award is an extra incentive for me to help any way I can. Yes, she can!
What else does this award mean to you?
Perhaps the question should be: what can you achieve by being Young ICT Lady? Data News uses this competition to spotlight your role as a woman in ICT. In other words: it's a great opportunity to present yourself as a role model, on various levels. In terms of awareness and visibility, it's clear that there's a huge shortage of women in IT and in a broader STEM framework, there's considerable work to be done still. Next, there's the gender gap, which if we proceed at the current pace, we won't close before 2186.
Also high on the agenda is impact: next to increasing awaraness, it's important to also back your talk with concrete actions. Anyone can take this on, and there's a lot of initiatives around to do so: Dwengo, Coderdojo, Capital Digital to name just a few.
And if you're working in IT, why not take on a coaching role to help pave the way for future young ICT ladies? All of these things are not just a drop in the ocean; they really make a difference.
On March 8, on International Women's Day, you took part in an event with several other SheGoesICT nominees. What did you do exactly?
In the school 'de Feniks' in Ghent, we organized a workshop for kids age 9-12 where we helped them make an artbot. The threshold to do stuff with technology is much lower than most of us would think: in 1.5 hours these kids learn how to program, get the robot's arm to move based on their instructions and so on.
By collaborating with schools, you can reach your full target audience: even those kids that normally don't get involved with technology now get to take part. One of the teachers told us there were children who don't yet have a computer or a laptop at home – let alone have the opportunity to toy around with a robot. So I think we can say the event was a success.
What else do you hope to achieve in the coming year as Young ICT Lady? Are there any other projects in particular you'd like participate in?
The enthusiasm at the aforementioned workshop from Nele, Laura, two other SheGoesICT nominees and Danielle (another bright female talent at AE) excited and inspired me. Together with Francis and Peter at Dwengo, we now have a fun team to set up future initiatives. And there definitely will be a continuation of our workshop track. Perhaps already in June, but definitely also during the European Code Week.
So, if anyone wants to take part or partner with us, we'd love to hear from you!