AE is pleased to announce the hiring of Edwin Madou as our new Business Development Director.
Edwin is a true IT-professional with considerable sales expertise, working for companies such as Porthus, NGData, Securex and others. His knowhow includes not just professional services, but strong insights into how technology and platforms help realize successful digital transformations.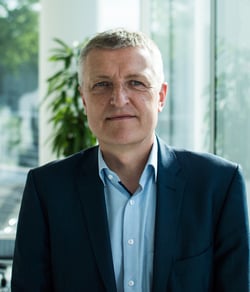 "Edwin is someone who, together with his team, wants to dig through to the real questions underlying a client's challenges," says AE CEO Stijn Vander Plaetse. "That leads to a win-win situation for not just the client itself, but for its employees and the affected parties in the organization's ecosystem."
"Quite often, transformations are a complex matter in which a multi-disciplinary approach becomes ever more important. Because of the huge challenges organizations are facing today, a holistic and pragmatic approach is at hand. And that's exactly what Edwin stands for."
Edwin himself was immediately drawn to AE's unique culture, built on people and knowledge sharing. "This organization is all about strong people, who strive to make themselves and others better every day," he says.
"AE possesses a great mix of People-Platforms-Products and I'm looking forward to working with everyone aboard to make our story further known in the market. Customer intimacy combined with making the AE-brand even stronger through a diverse amount of channels will spearhead that approach."