At AE, we deliver analytics projects on a daily basis and as a result we can experience from the front row that data-driven companies simply perform better than others. As data experts, we can all understand that "data is the new oil" and to put this philosophy into practice we have developed a unique data-driven innovation method to define your next best data product. Sounds interesting right?
Together with our clients, our highly motivated data- and lean innovation experts co-discover innovative data-driven ideas and develop the roadmap for a Minimum Viable Data Product.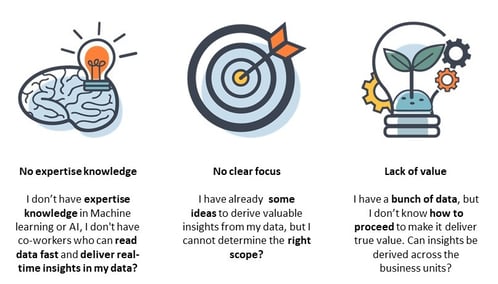 But what is this Minimum Viable Data Product (MVDP) exactly? We believe that a MVDP is defined as a data product delivering actionable insights from data with just enough features to deliver actual business value to satisfy early business users and to provide feedback for future product development.
How does this method work?
Our goal is to define a solution in one week. During this one week we co-create a list of business ideas and possible innovative data initiatives. We do not only focus on innovating from a business perspective, but also uncover the potential of your data by getting an idea of ​​the types of data you collect, their quality and relevance to build a new data solution.
Together, we prioritize the main business gains and pains and elaborate on an idea with the biggest added value​. Hereby, we look at whether the idea scores well on all three value lenses. First, we take the user likability into account, and check whether the idea offers a solution to an existing customer problem or not. In addition, the business value is also thoroughly analyzed: does the idea give a new revenue or does it yield a cost reduction? Business value is not necessarily monetary value, but it can also lead to a better reputation of the company by, for example providing a better service. Finally, we also examine with our technical people whether it is feasible to realize the idea from a data point of view.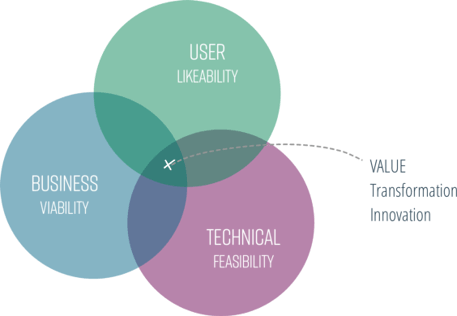 Another extra asset of our approach is the team composition, which does not only exists of data & innovation experts but additionally supported by one of our business domain experts. It goes even further; our experts work alongside your experts to check assumptions and collect new input to get the idea validated.
Hence, we believe that this unique combination of methodology and people are key to discover your best next data-driven solution tailored for your specific business needs.
One of our MVDP journeys
Recently, we went on this one week MVDP journey together with Engie Electrabel, a multinational electric utility company. We started of by forming a mixed AE/Engie team of data-, business- and innovation experts to do several well-structured workshops focused on three business challenges. Each workshop dealt with a specific challenge and consisted of two phases: an initial idea exploration phase followed by an idea selection phase.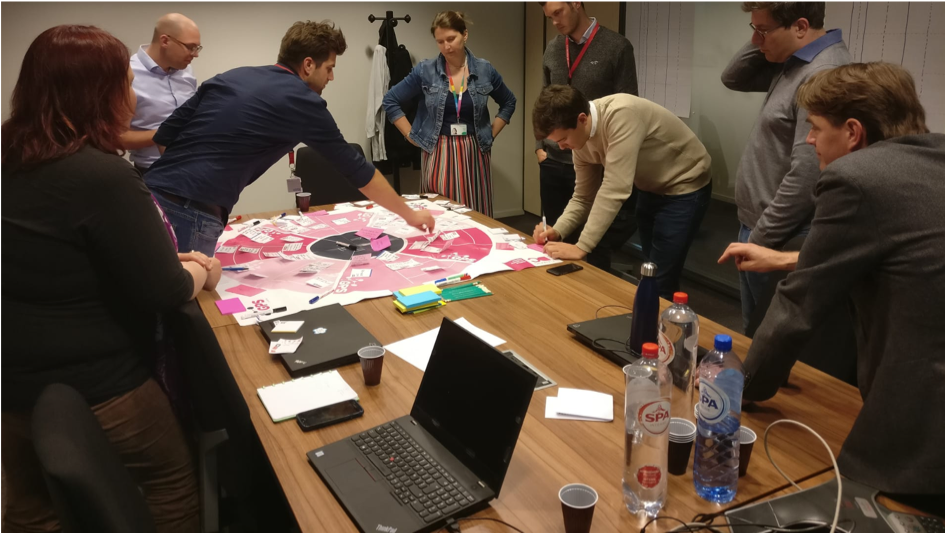 As a result, 188 ideas were captured and clustered into 52 idea clusters of which, after a final decision meeting with management, one top cluster remained for further refinement. At the end of this one-week journey we ended with a couple of deliverables such as a documented value proposition canvas, a description of the solution building blocks, an estimation of planning and team roles for the next steps of this MVDP roadmap.
We do everything we can to get all the information as clear as possible so that it becomes crystal clear how the idea can grow from a proof-of-value to a working Minimum Viable Data Product.
At Engie Electrabel, we gradually adjusted and optimized our innovative approach and it is clear from their feedback that our joint journey ended successfully.
Stanislas Fransman – Engie Electrabel Data Governance Officer at Engie Electrabel: "Very interesting and fruitful collaboration with AE by putting together internal and external experts from different domains to translate business needs, objectives into data driven use cases on a short term."
Interested? Accelerate your Data Driven Value Creation.