On December 11th, we invited our customers for an inspiring foyer for the last time in 2018. It turned out to be a very interesting evening with a surprising climax. At our last foyer, we introduced the world to a new member of the AE family: d-sides. With this new brand we aspire to motivate customers and partners to view data from different sides, in order to achieve better insights and decisions. We firmly believe that analytics is the way to support your business and overcome your challenges. We are proud to present d-sides to you, and who is a better fit for that job than our Analytics Hive lead, Bram Vanschoenwinkel?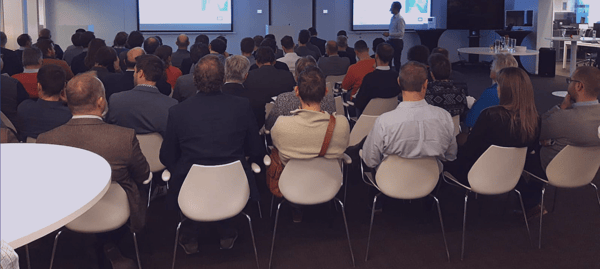 Bram: " Having all the data in the world at your fingertips doesn't mean you know what works for you. By turning data into actionable insights, we help businesses become better at everything they do."
We understand the challenges you are struggling with today. The landscape around us is becoming increasingly competitive in attracting and retaining talented employees. At the same time, you must keep an eye on the needs of your clients and said employees in order to achieve operational excellence. To make the difference, one must be able to surpass the competition in flexibility, accessibility and personalisation. Add to that the disruptive technologies and new business models that challenge your company to take action, and it becomes clear how uncertain the environment is in which you are moving.

D-sides wants to offer and answer to these uncertainties. Crunching heaps of granular data into smooth business strategies is what we do best. We gather data and transform it into useful insights that give companies the competitive advantage they need to thrive in their field.
Do you have to make some data-driven decisions and wonder what d-sides can do for you? Take a look at our website and follow us on LinkedIn and Twitter for more inspiring data stories.