When we ask our customers what drives them and what makes their organisations tick, the conversation always turns to the complex, changing world and its impact on their business.
It isn't not knowing what the future holds that worries them the most but rather the rate at which new developments are taking place. Today's opportunity could be tomorrow's threat.
It's that mix of uncertainty and urgency that keeps our customers awake at night.
How can companies stay relevant tomorrow? And not only for their customers but for their staff as well?
As a consulting agency, this also applies to AE.
Our core business is to assist companies in their transformation. Whether it's innovation or renovation, we have to take care today of what our customers will need tomorrow, both in terms of business and technology.
Of course, we don't have a crystal ball and the pace of change keeps us on our toes as well. Still, we have a duty to our customers to understand what's going on in the market, to grasp what new opportunities new technology brings to their business, to examine what creates true added value, and to distinguish trend from hype.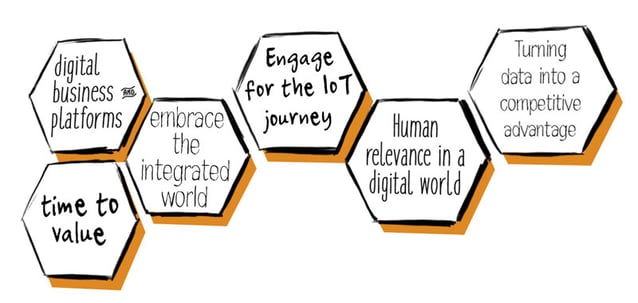 To provide our clients with sufficient added value ourselves, we must make certain choices. We shouldn't try to do everything at the same time but what we do do, we strive to do better than the competition. Here at AE we use six clearly defined topics to put things into focus.
These topics indicate in which areas we wish to invest and build knowledge to join our customers in reflecting on what the future has in store. And it doesn't stop there: we actually help them build that future because if we are to become proficient at carrying out this transformation, we need to get our feet wet.
The 6 central topics AE works on: