Expectations towards their IT department are high in terms of managing complexity and capitalising quickly on new opportunities. And while the CIO is expected to set a course for the future of the organisation, the existing IT landscape still absorbs tons of attention and budget for maintenance, rationalisation and cost control.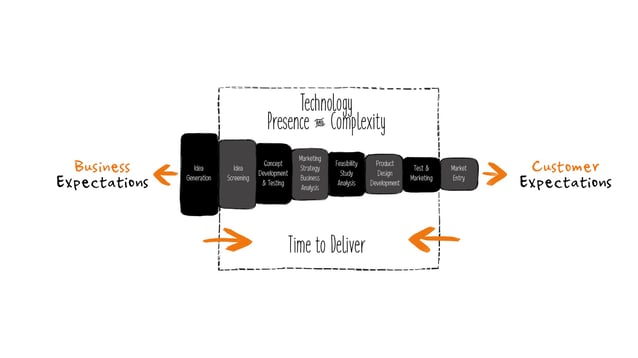 The Standish Chaos Report is a prime example in this regard: just 29% of all IT projects worldwide are considered successful (this means timely delivery, within budget and with the realisation of the intended customer value). What is so remarkable about this statistic is the fact that it hasn't changed for 20 years.
This prolonged stagnation has a number of causes:
The IT ecosystem is becoming ever more complex. We are expected to integrate with everything and everyone, content must be made available on all kinds of devices, etc.
The role of IT in the core processes of an organisation is growing and it is shifting from 'supporting service' to 'enabler'. The pressure to deliver faster just keeps building and this increases the error rate.
Things have to go faster all the time and usually there's an entire legacy of applications that can no longer cope with such a work rate, let alone offer the flexibility to be able to provide the customer with added value.
Add in the fact that customers are growing less patient by the day. They expect products or services to deliver added value from day one. If they don't, customers write negative reviews or switch to the competition.
The list above is not exhaustive but it does reflect a number of important dynamics that get in the way of an effective IT organisation.
AE presents companies with the know-how to combine speed with efficiency in three distinctive ways:
'Doing the right thing': tackling the efficiency of the IT organisation by setting up a 'just enough' enterprise architecture. The IT objectives must be aligned with the corporate strategy so the scarce means can be allotted to the right projects and initiatives.
'Doing things right': aimed at boosting the efficiency of the IT department when doing things quickly. This also includes the location and removal of bottlenecks and break points in the Software Development Lifecycle process (ALM, DevOps, test automation, etc.).
A combination of the above: adopting a co-creation approach in taking the client through an entire trajectory from initial idea to operational product within a timespan that is too short for a traditional IT structure.
Such projects have no chance of success without the buy-in of all stakeholders. That is why the creation of engagement by implementing change management is necessary to make them a success.