More and more, today's fast-paced technological evolution is replacing everyday objects with 'smart things': intelligent devices that effectively collect data on a large scale, both on themselves and their environment.
These physical objects have access to the Internet of Things (IoT) and take part in the conversation in the digital world.
The intelligent collection and use of this wealth of data enables companies to optimise their operational processes and set themselves apart through new products and services. But the buck doesn't stop there. By combining intelligent systems with existing services, companies can transform their business and offer services which were previously unimaginable.
I'd like to illustrate this with an example from the utilities sector, where work is underway on a smart meter that will register the end user's energy consumption.
Error-prone and time-consuming manual meter readings can be replaced with an automated process, decimating the number of interventions required and limiting the risk of error to a minimum.
Energy providers can distinguish themselves from the competition by offering their customers energy/eco coaching based on actual consumption data. As for grid operators, they can market themselves as the operator of a digital marketplace where supply and demand are orchestrated by customers – the Uber of the energy market!
IoT will also have a major impact on other branches of industry. In the sector of Payroll and HR Services Providers, the services offered in terms of prevention & protection can be modernised by using wearables and giving staff incentives to maintain an active lifestyle. The insurance sector could offer insurance products with premiums that depend on actual driving behaviour instead of by the 'statistical' risk of an accident, as is still the case today.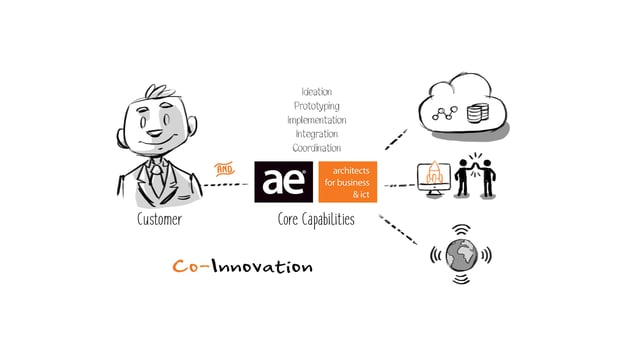 AE assists customers in their IoT journey, both in developing opportunities and in assessing the business risks. We develop the know-how to coach our customers end-to-end, throughout the various phases: from ideation across architecture & lean prototyping to implementation & roll-out.
In order to maximise the potential business value, we work with multidisciplinary teams and we always aim to strike a balance between innovative and architectural thinking.