Everything and everyone is connected. Time zones and distances are being bridged with ease while national and company borders are fading. Companies can be present anywhere in the blink of an eye.
Intensive globalisation and digitisation gives birth to new forms of interaction, communication and collaboration. These new models of cooperation give rise to ecosystems. Companies have access to new markets through networks that help them find new partners and interact with their customers through new channels. Their relationship with their staff also changes: remote working and flexible jobs are on the rise and growing numbers of people are working for and with companies on a freelance basis.
Companies face immense challenges in terms of business and IT if they are going to offer digital services directly to the customer (e.g. through self-service) or exchange information with the ecosystem (e.g. through open APIs).
As much as possible, process chains are simplified, streamlined and digitised end-to-end as much as possible.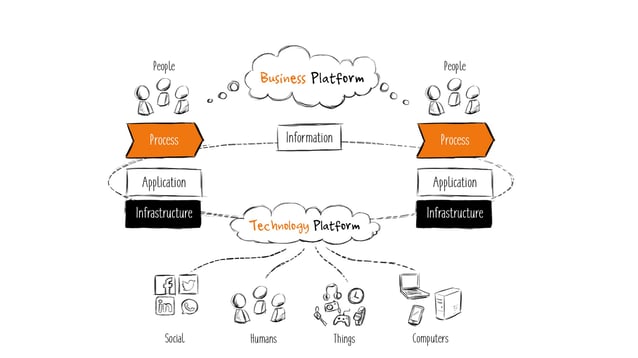 The IT architecture must be adapted to the new digital world and must evolve towards a (micro-) service approach. Increasingly, in-house developed applications are being replaced with standard packages that can run both on-premises and in the cloud. As a result, demand for integration is growing. Innovative platforms (iPaaS, iSaaS and API Management) support these new needs through cloud and hybrid implementation models. This calls for additional investments in skills, knowledge and capabilities with regard to integration.
At AE we consciously focus on the integration of companies, both in-house and with the ecosystems they are part of or would like to become a part of. Integration literally affects every aspect of a company and specifically demands an architectural approach. Apart from aspects of standardisation (of processes and software packages) and virtualisation (cloud computing), we also assist customers with channel integration, process integration, application integration and data integration.