Bij AE maak je als data engineer deel uit van een hechte Information Management-community. Je verwerkt diverse databronnen tot concreet toepasbare businesshandvaten: een rol die meer inhoudt dan je op het eerste gezicht misschien zou denken. Dat weet Niels Nuyttens als geen ander. Als ervaren data engineer vertelt hij ons graag meer over zijn job, de data die hij aan klanten levert en de uitdagingen die de IM-community volgens hem te wachten staan.
Een brede ondersteunende rol
"AE gaat heel gericht op zoek naar profielen die niet alleen veel technische bagage hebben, maar ook een theoretische achtergrond", vertelt Niels. Hij neemt momenteel dan ook een ondersteunende rol op bij onze klanten, die heel breed kan gaan: "Ik bied eerst en vooral ondersteuning bij de ontwikkeling van nieuwe frameworks. Momenteel help ik bij de bouw van data-pipelines om data van punt A naar punt B te krijgen. Onderweg worden de data opgeruimd, verrijkt en in diverse formaten omgezet, zodat ze in een optimale vorm bij de juiste gebruiker terecht komen."
Niels ontfermt zich ook mee over het operationeel embedden van al die data: "De technische uitwerking is slechts een deel van mijn job. Ik vind het minstens even belangrijk om mee na te denken over de analyse, monitoring en deployment volgens de gekende best practices binnen software engineering, zodat de data uiteindelijk ook echt in beweging komen."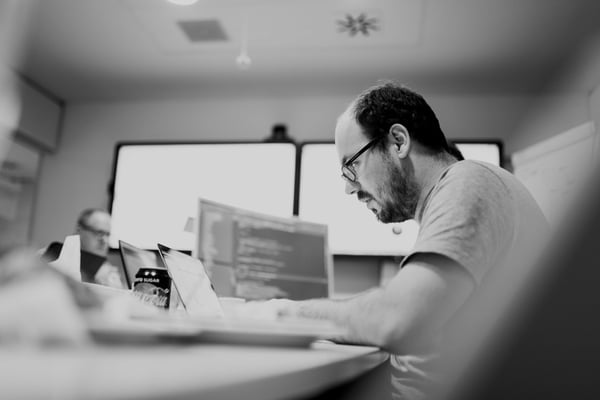 Vrij gevoel
Niels doet zijn werk graag. Vooral de veelzijdigheid van de job vindt hij erg aantrekkelijk: "IM biedt je een breed gamma aan technologieën en een uitgestrekt landschap om je binnen te bewegen. Er is op dit moment ook zeker geen gebrek aan interessante opdrachten, die bovendien heel verschillend kunnen zijn. Dat geeft mij een vrij gevoel. Ik kan vandaag perfect instappen in een aspect dat mij werkelijk interesseert en misschien is er morgen alweer iets nieuws dat mij aanspreekt."
Data engineer met oog voor business
AE gelooft dat IM veel meer inhoudt dan het beheersen en toepassen van technologieën. Onze data engineers reiken onze klanten dan ook niet alleen onderbouwde methodologieën aan, maar durven ook naar de businesskant van het verhaal kijken. Hoe zorg je er bijvoorbeeld voor dat de juiste modelleringstechniek gebruikt wordt voor een bepaalde toepassing? Snapt de businesskant wel waarover de data gaan? En wordt de terminologie gebruikt door de verschillende takken van de organisatie? Niels gelooft daarom sterk in job crafting:
"Door de uitstekende kennisdeling binnen onze IM-community breidt de kennis van onze data engineers razendsnel uit. Zo ontdekken we vaak al snel pijnpunten buiten onze oorspronkelijke opdracht bij een klant. Door die problemen zelf proactief aan te kaarten, kunnen we ons takenpakket op eigen initiatief uitbreiden. Die mate van zelfstandigheid waardeer ik enorm."
Van vele markten thuis
IM is een zeer uitgebreid domein dat een aantal uitdagingen met zich meebrengt. De wereld van Big data, en dus ook die van data engineering, evolueert immers continu en aan een razendsnel tempo. Bovendien zijn veel technologieën losse initiatieven van thought leaders als Google. Zij investeren voortdurend in een klein onderdeel van een ecosysteem om dan over te schakelen op het volgende project. De methodieken, tools en talen van deployments veranderen zo constant. Niels beaamt: "In de wereld van IM moet je van vele markten thuis zijn om het volledige plaatje te kunnen doen kloppen."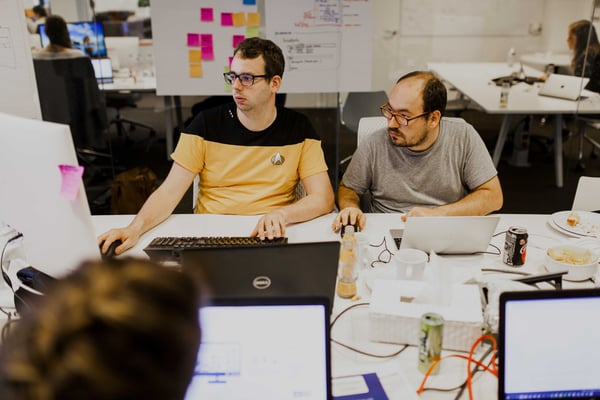 De Information Management Community van AE
Gelukkig kan Niels rekenen op een ijzersterke community: "In een dynamisch domein als IM is kennis delen essentieel. Als data engineer moet je dan ook goede contacten onderhouden met zeer uiteenlopende profielen. Ons netwerk bestaat enerzijds uit experten die zich specialiseren in één deelaspect van IM. Anderzijds zijn er verschillende professionals die over een schat aan kennis over verschillende domeinen beschikken. Samen bouwen we aan mooie verhalen, en ik geloof dat daarin de kracht van onze Information Management Community schuilt.
Een synergie van AE-netwerken
De Information Management community van AE werkt nauw samen met andere netwerken binnen AE. Dat biedt niets dan voordelen, aldus Niels: "We roepen vaak de hulp in van onze Analytics- of Integratiecollega's om een voorstel uit te werken voor klanten. De overlap tussen de verschillende domeinen binnen AE vertaalt zich zo naar een mooie synergie. De verbondenheid tussen al die netwerken zorgt er bovendien voor dat je vrij eenvoudig kunt doorstromen naar andere netwerken of rollen binnen het bedrijf."
Werken bij AE
Wil jij ook graag werken bij AE als data-engineer of deel uitmaken van onze Information Management community? Ontdek meer over deze rol in deze blogpost, of neem een kijkje bij onze openstaande vacatures!